Please click "Like this" and share it if you want to support this feature. Thank you !

Hello,

There is a Kodi addon call "gdrive" from ddurdle who can read videos (original and transcoding version) directly from Google Drive. Why not build on this idea to integrate Google Drive as source directly in Emby Server ?

In addition, Emby could generate automatically the STRM files from one or many Drive folders. And transcodings are already available with Drive so no need to transcode with Emby server.

What do you think ?
-------------
Three reasons why this feature will be useful and awesome:
1. Cloud is the future and today the cost is affordable. I have a Google Drive Unlimited for $50/month (ie $600/year) and I have unlimited space that is secured against crashes. Knowing the cost of hard drive and the cost of power consumption, its a very good deal.
2. Google Drive transcode video file. This provides different stream quality like Youtube (1080p, 720p, 480p and 360p) and the "image quality/compression ratio" is very satisfying. I can play 720p video on my poor 4 Mbits DSL.
3. You don't need to have a big server. Personally, I opted for a little dedicated server (Kimsufi 2G) for the cost and I can leave it run 24/7! Furthermore, me and my friends can watch movies from anywhere!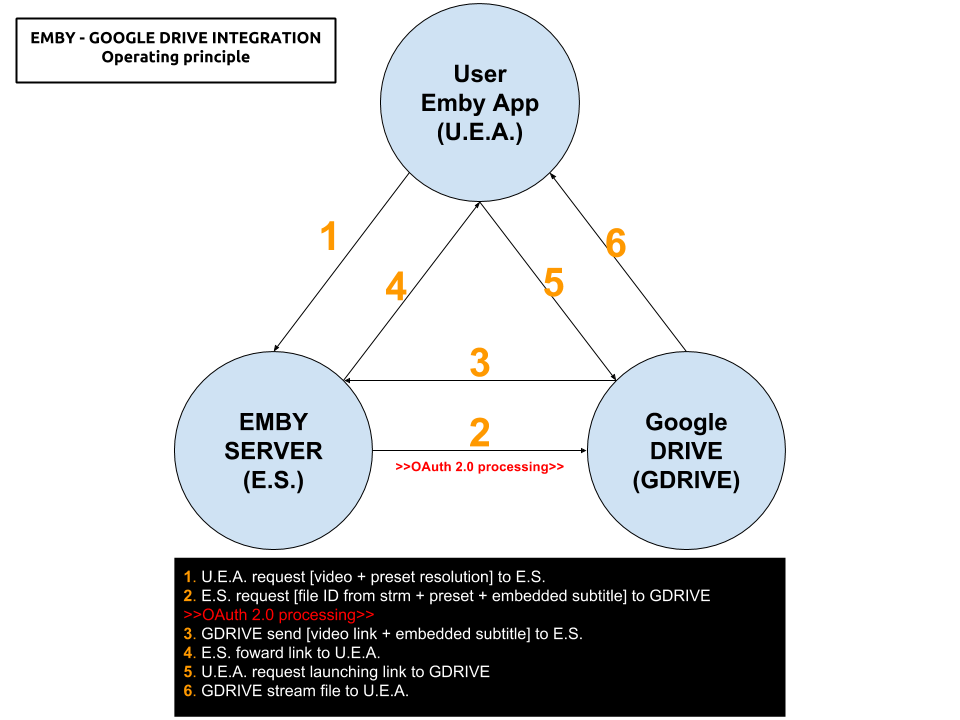 Basics features
that should be included:
GOOGLE APPS OAUTH2 for activation and permission
playing transcoded version (MP4 360p, 480p, 720p & 1080p) directly into Emby's app
playing original file (avi, mkv, mp4) directly into Emby's app
import embedded subtitles
porwerful script module for multiple folder scanning and STRM generating
Edited by tatumana, 26 August 2016 - 03:42 PM.