When playing playing a movie though the Shield TV, it stopped twice, needing me to return to the main Shield menu and re-select Emby. When i looked at the logs I could see that it was transcoding the DTS audio, but could not see why.
The same file pays without any transcoding though Plex. I have tried another movie with DTS audio (and a higher bitrate) and it played normally
The Shield is output through a Yamaha YSP-2700 which supports DTS. I have attached the main Server log and the remux logs.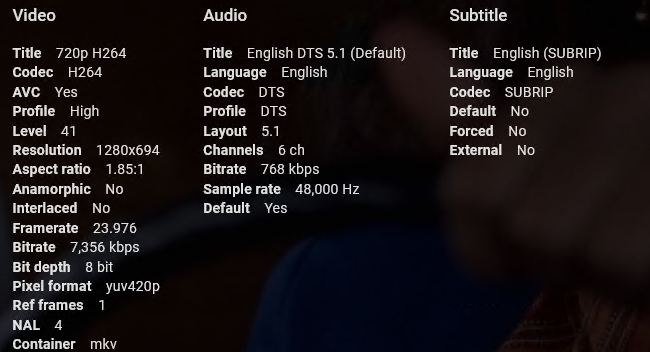 My experience of the Emby app on Shield is that is any transcoding (even just audio) takes place, there is a tendency for the playback to stop unexpectedly. I can see no evidence of network congestion or heavy CPU usage on the media server (windows 10, i7-3770, 32 GB ram). As with the specific movie, I do not get these issues on Plex, which makes me think it is app specific.
Edited by archiel, 09 February 2020 - 10:49 AM.