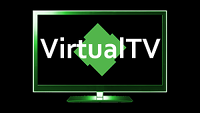 You've grown up with watching live tv but on television only runs garbage? You have a big library but don't know what to watch next?
Then this for you: "VirtualTV" - my new live tv plugin that allows you to create custom channels based on conditions of your Emby library content.
Right now it's in beta state, so testers are welcome.
Although it's already very feature rich, it has some limitations:
What's coming next:
Bug fixing, if you find some. And i'm sure you will
Implement sorting options other than random
Remove channel count limitation
Optimize configuration screen with pre-filled cloud selection dialogs for genre, tags and some other things
Known problems:
Emby's live tv and playback api is very limited, so i've had to make some detours to get things working. The plugin has two playback modes: "single" and "continous" playback.
In single mode the plugin requests one stream copy of the actual movie from Emby's VideoService and forwards the URL to the live tv engine. At the end of the stream live tv stops. This mode has to be your preferable choice.
In continous mode up to ten movies are queued and concatenated to one big file. To make this happen every video in the queu has to have some common features (video and audio codec, framerate). That's why it often happens that the video has to be transcoded by ffmpeg.
For transcoding the plugin relies on Emby's internal transcoding engine. If there's a problem, not uncommon with hardware acceleration enabled, the plugin also has a problem. Nothing i can do about it.
Both playback modes only deliver a maximum of one audio and subtitle track, dependant of the Emby user playback settings.
If you like my plugin but want a better playback experience, just ping @Luke and as for ReadAtNativeFramerate, CopyAllCodecs and Auto RestartLiveTV
To get things started copy the extracted dll from the attachment at the end of this post to Emby' s plugin folder.
Restart you server and follow the instructions:
First you have to setup a custom api key. This is needed for most internal requests the plugin is doing.
​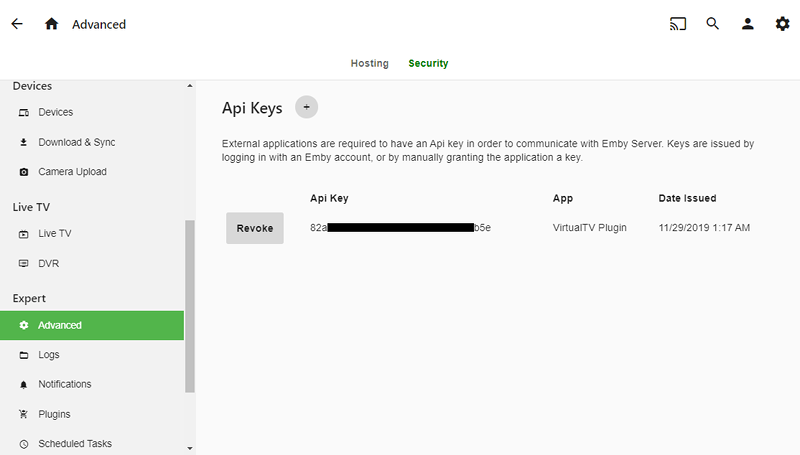 ​Copy you api key and paste it in the general setting of the VirtualTV plugin configuration screen.
​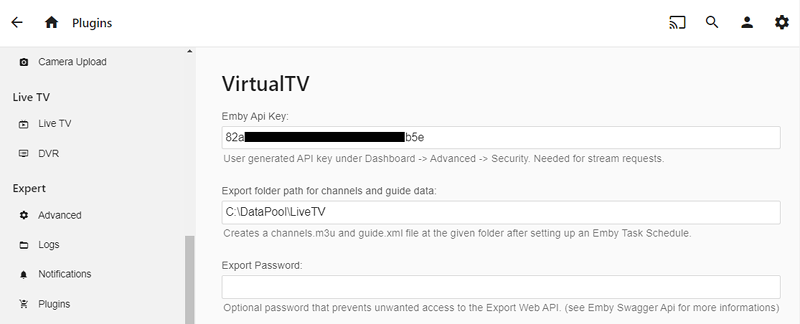 The export folder path is optional. It allows you to use your custom channel line up in other applications like Kodi.
Now setup your channels with a name and number and choose your playback mode.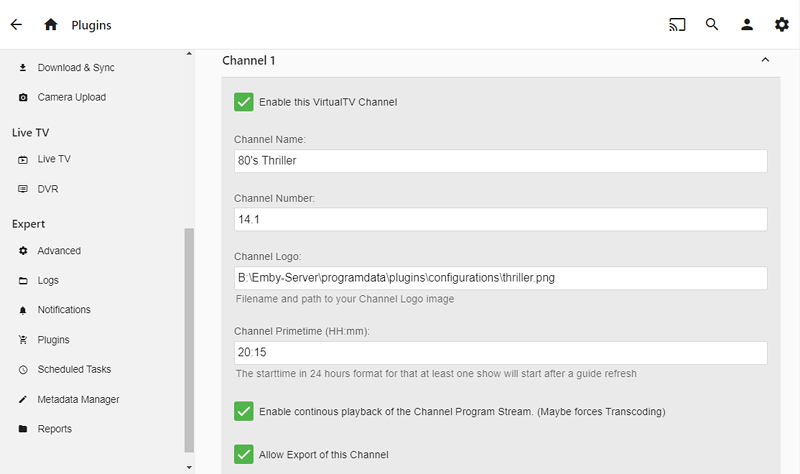 In the channel conditions you'll have to select an Emby account. This account is used to get library access, reading watched states and selecting the video stream language.
At least one textual input field of the conditions has to be filled to get some program data. Fields with an asterisk are either evaluated with an "AND" or "OR" condition among each other.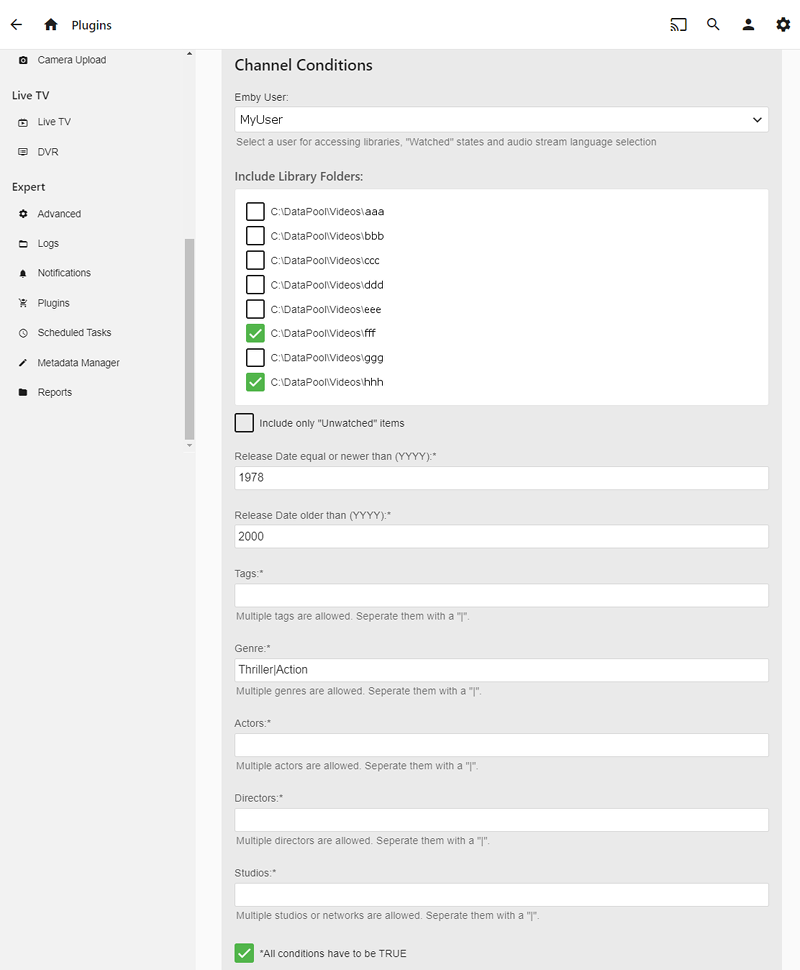 Finally, if you've chosen "Continous Playback" for one of you channels, take a look at the transcoding settings.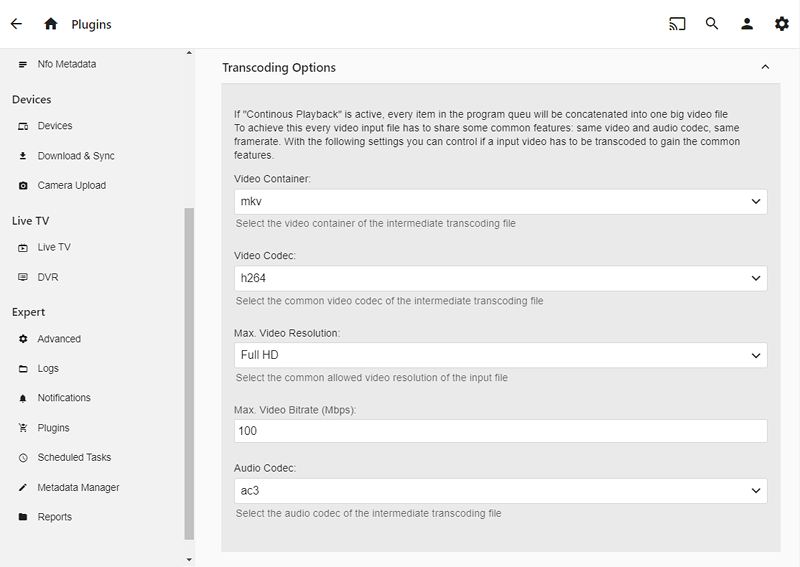 Save your channel line up and manually trigger a "Guide Refresh".
Now have fun!
Hint: if a movie is still playing, hit the record button on the video osd to mark the movie as "Watched".
Version History:
0.5.0 First release
0.5.1 Ignore external subtitles for stream requests
0.5.2 Added some extra logging for the Export task
0.5.3 Do not throw an exception for items without runtime, instead just skip them
0.6.0 Support for TVShows, option to automatically mark items as watched
0.6.2 Increased channels to twenty; Fixes for "AutoMarkWatched", Fixes for playback start
0.6.4 Fixed "Watched Only" condition for tv shows; Fixed http response header for the export web api; Fixed Emby crash by "AutoMarkWatched"; Added option to force ts container in single playback mode
0.6.5 Added custom ffmpeg option for single playback mode
0.6.6 Fixed a bug for TVShows that could lead to an infinite guide refresh; Added some hidden settings for "FFmpegDirectStream" mode
0.6.7 Added option to wait some time for the intermediate transcoding file to get filled
0.7.0 Added support for music videos; Added program sort options to each channel; Optimized some database queries; Changed method of recognizing local ip adress for the Export method
After a plugin update, always clear your browser cache. If your setting still don't load in the config screen, you have to move the "VirtualTV.xml" out of ...\plugins\configurations and restart Emby. Start from scratch.
Edited by pünktchen, 11 February 2020 - 02:36 PM.