I want to not report a bug, but give a feedback about a change that destroyed the sync functionality. A premium feature that now is near to useless.
Some times ago, for the sake of correcting sync issues, the possibility to sync in a folder of one's choice was deleted. The synced files are now stored in Android/data/com.mb...
The problem is, despite deleting the .nomedia files in order to give visibility to the media files, nor phone default players (tried Samsung and HTC on 2 diff. phones (HTC U11 and Samsung Galaxy S9+)) nor 3rd party players like VLC can see (and read) the stored media files.
"But you can copy the files in the folder that you want"
-Sure, I can do it, but I knew that the sync was here to avoid me that crap. Before this, I had a "bagnole" (car in french slang, yeah that's why I'm ranting so much) playlist. I added a music in this playlist, and emby synced the file(s) that I choosed to be added in the phone, in the folder that I choosed. The result : I just needed to fire the player before driving and the music was played flawlessly. And there's hope I have only actually 1.3 Gb of music and 64GB of internal storage in my principal phone. But others are maybe not with that storage, and maybe not with the same needs with sync (my respect for those who are 10Gb+ to sync, and do copy after for being normally readable)
"If you're a linux guru and rooted, I heard something about links with ln in the terminal"
-I tried it, Linux is my second name since a long while. It doesn't work because of android pseudo FAT32 for being readable for the MTP protocol. The link is present in the file system, but Android doesn't give a s**t about it.
"You can just use emby player in the app"
-Yeah I could, if the thing was correctly usable. VLC and other 3rd players can interact with the command buttons on the steering wheel of the car. When I tap next, the players are playing the next song, emby player do a pseudo-fast forward and hang itself. I need to force close it, go to the app, playlist, select, do play or random play again.... and not be easily able to change a track if I want. (There's a protocol called MPRIS2 and I heard that the thing does the work well, if this could help)

Being on foot or car, if I'm in a not so well network covered zone, the lauching of emby app is laughable. Force closes, loadings that takes eternity, if the load success, and despite the medias being "synced", I have cuts when network is bad. I cross a border when I drive to work (with the mandatory cell phone network changing) and the cut in the middle of a song is not an agreable experience.
"There's some players that are folder based"

Why will I need to change my habits because someone decided that a bad idea could be a good one? And basically replacing players that are normally working?
So, what to do with this functionality? If there's no change for this, at least put the functionality charge-free, it is in practical barely usable (and the fact that Emby just copied the Plex way of doing the thing, retiring to emby a thing that is better than Plex).
Or else, give people the choice. You can keep the default behaviour (with the message "this choice is for better sync compatibility blah blah...) AND propose the choice to sync in the folder we want (if you want with a warning like 'in some phones this does not work so well, be careful'). Because in the actual state of the thing, we pay for a functionality that provide more problems that it resolves.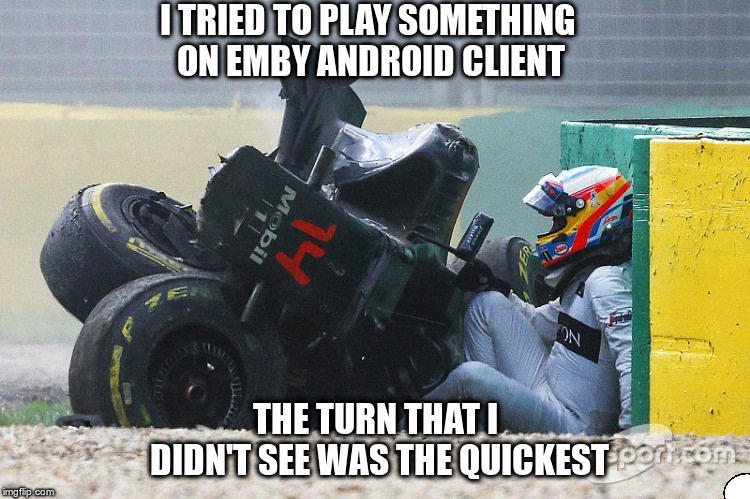 via Imgflip Meme Generator
Edited by s7relok, 16 February 2019 - 08:53 PM.