Let's talk about a real full migration and the separation of metadata and mediafiles.

I know i know, you system architects of emby have had discussions and thoughts about this topic enough i guess...But i want to ask you to maybe rethink one or two things about the structure of emby.

But hold on, before you think: great, another non-programming average Joe who thinks he knows things better than we do... just let me explain.

The fact that i am here right now, writing this post about emby is because: i love it

As a long time kodi-user i instantly fell in love with emby the moment i installed it and started using it.

I mean, kodi gives me some more options and fine-control on how I want to structure my library where emby is limiting me, and emby has some little flaws here and there. But the overall feeling about emby is just awesome!

So, i ditched Kodi for emby and never looked back...until now.
I'm in a similar position as @Kirk137 in his post https://emby.media/c...ation-strategy/
or like @flort in this post https://emby.media/c...-changed-paths/
Due to some hardware and software-changes, i'm in the process of having to migrate from a emby macOS installation to a Ubuntu-based Linux installation.

Even though my case is about macOS/Linux-migration, my problem is related with the general migration-process and metadata-management, and therefore belongs in the "general"-forum.

So, as besides of the root-path from my mediafiles, nothing has changed and i thought: this won't be a big deal...just copying the database, correcting the rootpath for the mediafiles and boom it's done. Should only take one hour at best. But this was thought too short.

I followed the instructions from https://github.com/M...iki/wiki/Backup
and was a little shocked when i read this in the documentation:

This will not backup library contents and metadata. To keep a permanent copy of metadata, we suggest enabling saving of local metadata to media folders.

How can it be that a software like emby, so powerful and well written/supported, has no proper 100% backup/migration-process?

I followed the instructions for a manual backup anyway and now i have a "partially" migrated/backed up new database. After the re-indexing scan of 1-2 hours, the files are there and users and everything else - but the manually edited, handcrafted movie-entries are ALL gone. And this is a huge bummer as i putted in A LOT OF TIME identifying the movies/videos/shows by hand while remaining their original filenames!(sometimes this is possible sometimes not)

So, the whole migration-process took 4-5 hours by now and still isn't complete/finished and satisfying. And right now i don't know where to go or what to do to get this done.

I for myself and i don't think i'm alone in this - need a proper way to backup and migrate a whole installation. And with whole installation i mean whole. This should not only include:
Server configuration
Users
User data (playstates, favorites, etc).
Installed plugins
Plugin settings
Playlists
but also:
library/index
metadata
views
full cache(people,pictures,movieinfos,artistinfos)
Manually edited, handcrafted movie-entries.
When nothing besides the rootpath of my mediafiles and the paths to the config files have changed, i don't really understand nor can't i find good reasons why i should have to put my hardware, and my nerves to so much stress(io-workloads) re-indexing, re-downloading, re-editing and re-configuring the whole library when the data are already available somewhere(old machine).

I mean, i can understand that from a programmers perspective a migration/backup-process is no simple task. But from a users-perspective it should not be extremely more than: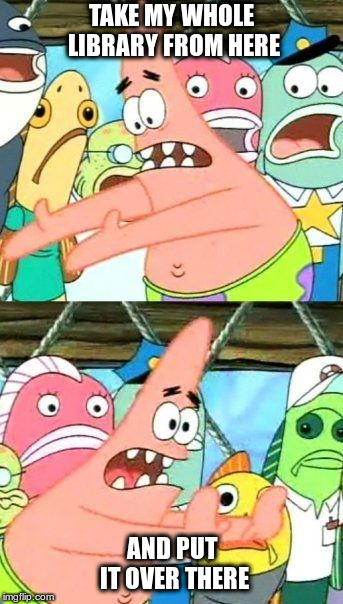 Ok, ok, i know. It's not just a single button-press and everything is magically done in 2 minutes. And i am fine with copying config files by hand, and running well documented pre-written SQL-queries etc etc. But in the end a migration/backup-process should be 100%, and not just 50-60%-ish.

And now comes the part about emby, that i completely dislike and reject: The structure of handling data and media.

The idea about saving metadata with the mediafiles might seem appealing and easy first of all...but when you think about it its not that great at all. Here's why.

I don't want any tool than my file-manager and my brain to get in the way of my structure and naming-conventions. Therefore i only mount my media-folders read-only for emby, kodi and other tools. I do this because i don't want any bug, user or coincidence to threatening me with the possibility of messing, deleting, renaming or restructuring my media-files/folders.

I need to preserve the structure and names of my files and folders to some degree for archiving-and a lot of other reasons. So i don't want emby or other tools to write nfo-files all over the place or rename anything.

Yes i know about the possibility of recognizing files by hash even when the filenames have changed, but this is no option as i need to preserve the original filenames. When you think about it, why would you want mix up two categories of datatypes(data and media)? For me personally it feels way more natural when i have the two separated.
I have one place for data and one for media.

The other really big problem i have is when this idea of "saving local metadata to media folders" is the only possible way of a given migration-process. Without another given option it feels like getting told: You ether swallow our nfo-mess in your file-structure or you have to redo the whole indexing and editing-process with every crash or system-migration! Ouch!

Most of other media-libraries like itunes, kodi, subsonic etc. separate the two datatypes while maintaining full migration-ability.

Sometimes emby is also forcing me to rename files/folders just to get indexed correctly. For example when episodes of a show are named E01 instead of EP01...or when a show/anime hasn't episode-numbers splitted by seasons etc.

While you are reading this, you might be thinking: What do you want from me?!
Let me tell you:
First of all, i need help. Medic please! I need to get this migration-process done without the need of having to re-edit all the rare movies and videos i edited by hand(took me weeks to months!) I need a way(detailed instructed how-to) on how to migrate 100% of my library from one machine to another.
Give us the ability to just change the root-path of already indexed files after a migration. This should avoid the need of reindexing. Maybe implement a routine that searches for filenames in case of files are restructured(but saves the metadata until the user deletes the metadata).
I please you to rethink/rewrite/expand you backup/migration-process. So it becomes easier, complete and hassle/io-stress-free.
I please you to overthink your thoughts on the handling of data (metadata,user,movie etc) and mediafiles. A clear separation is needed imho. A separation would also make a full true migration-process easier i guess ¯\_(ツ)_/¯
Please give us the ability to index custom naming-conventions without the need of renaming files and or folders. Kodi is great starting point as it has given me this possibility.
I'm pretty sure that i missed a lot of thought's i had but this is already long enough.
I hope i described everything clearly, if not don't hesitate to ask me questions.
I also hope that other users voice their opinion about this issues.

Thank you for emby and for your attention.
Cheers kaizo
Edited by kaizo, 20 October 2018 - 07:48 AM.