Hello everyone from Emby!

This is my first post on your forums since I only started using your product since yesterday (22/09/2017). I used to work with Plex Media Server but after testing your system I'm thinking on jumping platforms for my streaming needs.
So here is the issue that I'm facing:
1) After creating a library and scanning the library, I'm faced with a lot of shows with automatically downloaded metadata (which is fine and works perfectly) but also some shows with incorrect matches or no matches at all. I tried finding an option to "fix incorrect match" like I used to do it in PMS and so I found the "Identify" option to basically fix the metadata of each series. Again, until then everything is working perfectly.

So after pressing the "identify" option, we get the "identify" window/form where you can actually type in a Name and then search for possible metadata match in the DBs. Now here comes the issue... after I've typed a Name and submit my request, I'm often faced with many possibles metadata choices that could match with my Name. The real problem here is that I'm not shown the complete names of all those possible matches; they are being cut after about 19 characters which is way too small in my case.

Some more details to completely explain the issue:
-I've only been faced with this annoying issue with Anime titles for Series and Movies since Anime titles are often very long and often have multiple seasons and special episodes starting with the same long title meaning we're seeing the same "Names" in the Metadata Matches.
i.e.
*Code Geass: Hangyaku no Lelouch
*Code Geass: Hangyaku no Lelouch R2
*Code Geass: Hangyaku no Lelouch Special Edition Black Rebellion
*Code Geass: Hangyaku no Lelouch Picture Drama
*etc, etc...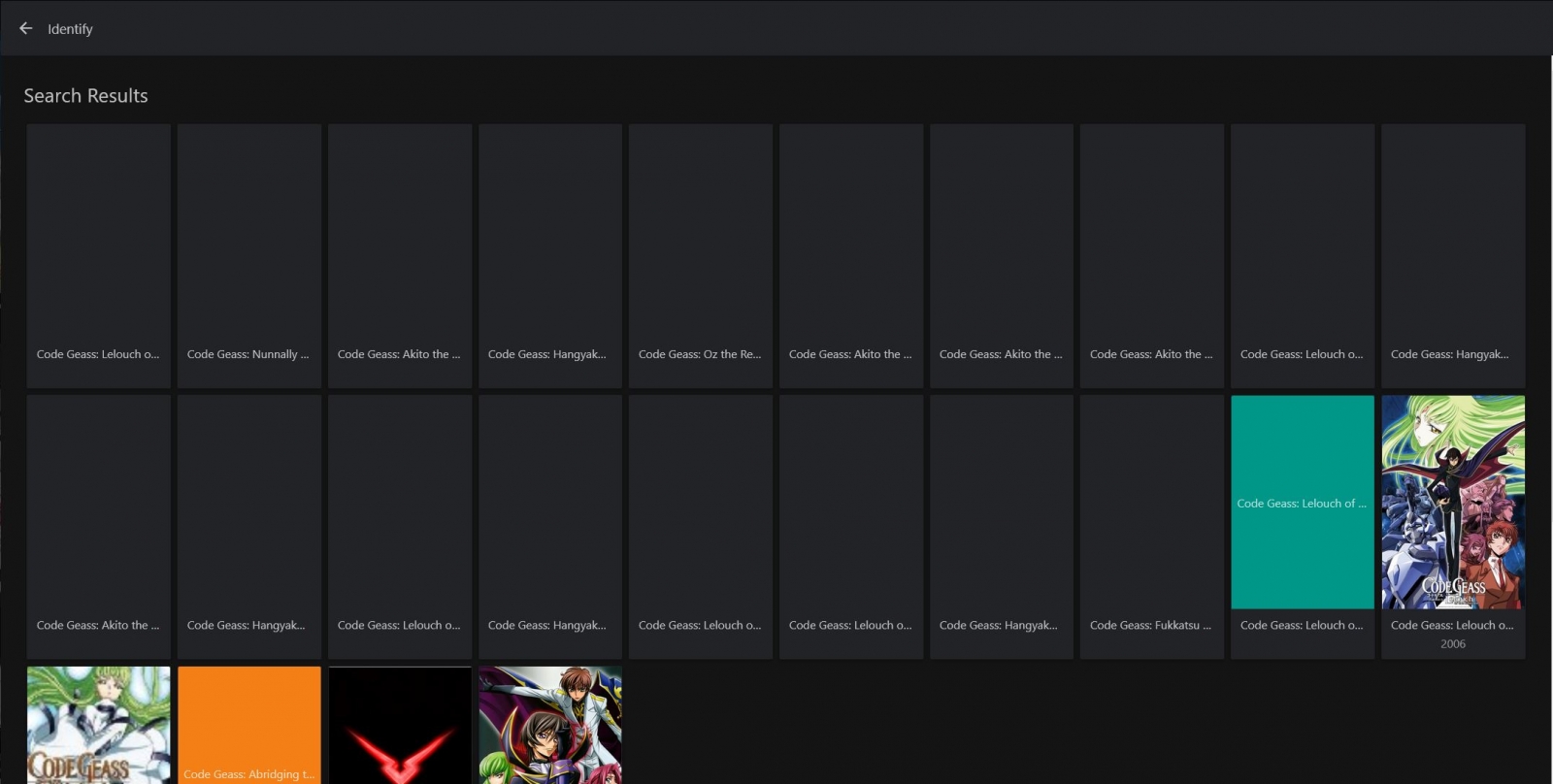 Most of them only show "Code Geass: Hangyak...".

I haven't seen an option to change the format to see complete names.

Is there some kind of hidden function I have not seen? I'm all ears!


2)Following directly from issue 1, I click on the wrong metadata match and I want to go back by clicking on the back arrow (top left corner of the previous image) or by clicking out of the window, it simply drops me back to my Library and I need to redo all the steps I mentioned to try a different metadata match.

If there is no way to display the full names of all matches at this moment, is there a way to make it so that back-tracking to the metadata match window is possible?


Thank you for looking into it!

Best regards,
Pitchblack

P.S. I think Emby has a lot of great options! I enjoy it a lot.