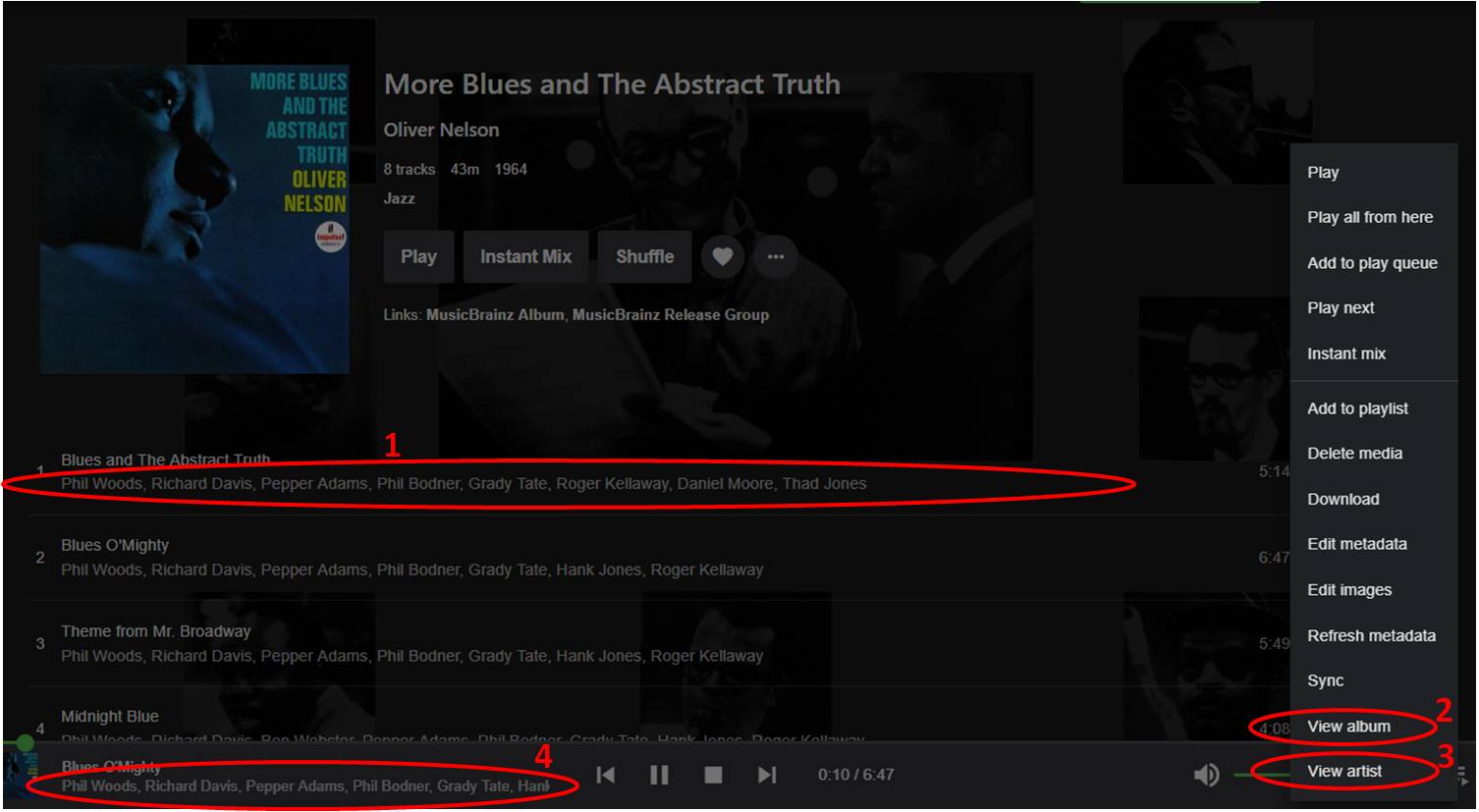 Above image is Emby's web interface screenshot from the album detail screen.
It has one of the track's menu "activated".
It seems to me there could be real improvements with very little effort.
a) There is currently no "Play" button on the track line. Instead each track line shows three buttons: "Add to playlist", "More..." (which opens the menu shown on the above image) and "Add to favorites". The "Add to playlist" is also shown on the "More…" menu.
I would suggest:
relocate "More" button to the end

change "add to playlist" to play button

using the long click function already standard to Emby as a means to select one or more tracks to insert/create a playlist.
b ) Once the "Play" button is present, I would suggest every contributing artist on the track line, e.g.: number (1) on the image, to be a link to the artist detail page. I understand the "Play" button is a conceptual change but even sticking to the current line-touch-playing I think artist's linking on track would be a real improvement on user's experience navigation.
c) On track's "More" menu there currently is a "View artist" option (number 3 on the above image) which actually leads to the first track's contributing artist. I would suggest changing this option to "View Album artist". As mentioned on "(b)" above, every contributor artist would be reachable from links under track's name.
d) I found no reason why each track "More" menu has an "View album" option (number 2 on the image) as we already are on the album detail page.
e) The "now playing" tray currently have two links: one to the album detail screen containing the track being played and one to track's artist detail page. Problem here is this second link leads to "the first contributing artist" Emby grabs from database. As stated on item "(b)" above, I suggest there should be a link to each artist shown.
Edited by EduardoSantos, 05 August 2019 - 12:10 PM.