Hi
I'm having some trouble getting Emby to pull and sync the data of how much I have watched of a video from Trakt.
I'm using Trakt on Kodi, Plex, and Emby. Between Kodi and Plex everything works no matter where I watch the video, I can continue watching from where I left of using any of the services.
However, in Emby it does not seem to pull the data from Trakt because it will not update the progress of a video watched on any of the other platforms.
What does work is starting to watch a video on Emby and then continue watching on any of the other two platforms. And when i play a video in Emby I can go to Trakt.tv and it correctly states which movie is playing and the progress. So It can communicate with Trakt and send/receive some data.
I'm getting no Errors when running the scheduled Trakt tasks in Emby.
I've tried uninstalling the plugin and reinstalling it, as well as deleting the Trakt.xml file on my system.
I've also tried changing the few settings there are in the Trakt plugin but nothing seems to work.
I just updated Emby to the latest stable release but it didn't help.
Here is my log from Emby and a picture of my settings.
I would really appreciate any help with this issue.

2018-08-30 19:19:42.111 Info Main: Application path: C:\Users\Anon\AppData\Roaming\Emby-Server\system\EmbyServer.dll
2018-08-30 19:19:42.115 Info Main: Emby
	Command line: C:\Users\Anon\AppData\Roaming\Emby-Server\system\EmbyServer.dll
	Operating system: Microsoft Windows NT 6.2.9200.0
	64-Bit OS: True
	64-Bit Process: True
	User Interactive: True
	Processor count: 8
	Program data path: C:\Users\XXX\AppData\Roaming\Emby-Server\programdata
	Application directory: C:\Users\Anon\AppData\Roaming\Emby-Server\system
2018-08-30 19:19:42.254 Info Main: Tray icon path: C:\Users\Anon\AppData\Roaming\Emby-Server\system\electron\embytray
2018-08-30 19:19:42.273 Info App: Application version: 3.5.2.0
2018-08-30 19:19:42.275 Info App: Loading assemblies
2018-08-30 19:19:42.285 Info App: File C:\Users\Anon\AppData\Roaming\Emby-Server\programdata\plugins\Emby.Server.CinemaMode.dll has version 1.0.2.0
2018-08-30 19:19:42.285 Info App: File C:\Users\Anon\AppData\Roaming\Emby-Server\system\plugins\Emby.Server.CinemaMode.dll has version 1.0.2.0
2018-08-30 19:19:42.285 Info App: File C:\Users\Anon\AppData\Roaming\Emby-Server\programdata\plugins\IMVDb.dll has version 1.0.1.0
2018-08-30 19:19:42.286 Info App: File C:\Users\Anon\AppData\Roaming\Emby-Server\system\plugins\IMVDb.dll has version 1.0.1.0
2018-08-30 19:19:42.286 Info App: File C:\Users\Anon\AppData\Roaming\Emby-Server\programdata\plugins\OpenSubtitles.dll has version 1.0.2.0
2018-08-30 19:19:42.286 Info App: File C:\Users\Anon\AppData\Roaming\Emby-Server\system\plugins\OpenSubtitles.dll has version 1.0.2.0
2018-08-30 19:19:42.290 Info App: Loading Emby.Server.CinemaMode, Version=1.0.2.0, Culture=neutral, PublicKeyToken=null from C:\Users\Anon\AppData\Roaming\Emby-Server\programdata\plugins\Emby.Server.CinemaMode.dll
2018-08-30 19:19:42.290 Info App: Loading IMVDb, Version=1.0.1.0, Culture=neutral, PublicKeyToken=null from C:\Users\Anon\AppData\Roaming\Emby-Server\programdata\plugins\IMVDb.dll
2018-08-30 19:19:42.290 Info App: Loading OpenSubtitles, Version=1.0.2.0, Culture=neutral, PublicKeyToken=null from C:\Users\Anon\AppData\Roaming\Emby-Server\programdata\plugins\OpenSubtitles.dll
2018-08-30 19:19:42.290 Info App: Loading Trakt, Version=3.2.1.0, Culture=neutral, PublicKeyToken=null from C:\Users\Anon\AppData\Roaming\Emby-Server\programdata\plugins\Trakt.dll
2018-08-30 19:19:42.290 Info App: Loading MediaBrowser.Api, Version=3.5.2.0, Culture=neutral, PublicKeyToken=null
2018-08-30 19:19:42.290 Info App: Loading MediaBrowser.WebDashboard, Version=3.5.2.0, Culture=neutral, PublicKeyToken=null
2018-08-30 19:19:42.290 Info App: Loading MediaBrowser.Model, Version=3.5.2.0, Culture=neutral, PublicKeyToken=null
2018-08-30 19:19:42.290 Info App: Loading MediaBrowser.Common, Version=3.5.2.0, Culture=neutral, PublicKeyToken=null
2018-08-30 19:19:42.290 Info App: Loading MediaBrowser.Controller, Version=3.5.2.0, Culture=neutral, PublicKeyToken=null
2018-08-30 19:19:42.290 Info App: Loading MediaBrowser.Providers, Version=3.5.2.0, Culture=neutral, PublicKeyToken=null
2018-08-30 19:19:42.290 Info App: Loading Emby.Photos, Version=3.5.2.0, Culture=neutral, PublicKeyToken=null
2018-08-30 19:19:42.290 Info App: Loading Emby.Server.Implementations, Version=3.5.2.0, Culture=neutral, PublicKeyToken=null
2018-08-30 19:19:42.290 Info App: Loading Emby.Server.MediaEncoding, Version=3.5.2.0, Culture=neutral, PublicKeyToken=null
2018-08-30 19:19:42.290 Info App: Loading Emby.Dlna, Version=3.5.2.0, Culture=neutral, PublicKeyToken=null
2018-08-30 19:19:42.290 Info App: Loading MediaBrowser.LocalMetadata, Version=3.5.2.0, Culture=neutral, PublicKeyToken=null
2018-08-30 19:19:42.290 Info App: Loading Emby.Notifications, Version=3.5.2.0, Culture=neutral, PublicKeyToken=null
2018-08-30 19:19:42.290 Info App: Loading MediaBrowser.XbmcMetadata, Version=3.5.2.0, Culture=neutral, PublicKeyToken=null
2018-08-30 19:19:42.290 Info App: Loading Emby.Server.Connect, Version=3.5.2.0, Culture=neutral, PublicKeyToken=null
2018-08-30 19:19:42.290 Info App: Loading Emby.Server.Sync, Version=3.5.2.0, Culture=neutral, PublicKeyToken=null
2018-08-30 19:19:42.400 Info SqliteUserRepository: Sqlite version: 3.24.0
2018-08-30 19:19:42.401 Info SqliteUserRepository: Sqlite compiler options: COMPILER=msvc-1500,ENABLE_COLUMN_METADATA,ENABLE_DBSTAT_VTAB,ENABLE_FTS3,ENABLE_FTS4,ENABLE_FTS5,ENABLE_JSON1,ENABLE_RTREE,MAX_TRIGGER_DEPTH=100,TEMP_STORE=1,THREADSAFE=1
2018-08-30 19:19:42.423 Info SqliteUserRepository: Default journal_mode for C:\Users\Anon\AppData\Roaming\Emby-Server\programdata\data\users.db is wal
2018-08-30 19:19:42.425 Info SqliteUserRepository: PRAGMA synchronous=1
2018-08-30 19:19:42.438 Info AuthenticationRepository: Default journal_mode for C:\Users\Anon\AppData\Roaming\Emby-Server\programdata\data\authentication.db is wal
2018-08-30 19:19:42.438 Info AuthenticationRepository: PRAGMA synchronous=1
2018-08-30 19:19:42.493 Info ActivityRepository: Default journal_mode for C:\Users\Anon\AppData\Roaming\Emby-Server\programdata\data\activitylog.db is wal
2018-08-30 19:19:42.493 Info ActivityRepository: PRAGMA synchronous=1
2018-08-30 19:19:42.495 Info SqliteDisplayPreferencesRepository: Default journal_mode for C:\Users\Anon\AppData\Roaming\Emby-Server\programdata\data\displaypreferences.db is wal
2018-08-30 19:19:42.495 Info SqliteDisplayPreferencesRepository: PRAGMA synchronous=1
2018-08-30 19:19:42.591 Info SqliteItemRepository: Default journal_mode for C:\Users\Anon\AppData\Roaming\Emby-Server\programdata\data\library.db is wal
2018-08-30 19:19:42.591 Info SqliteItemRepository: PRAGMA synchronous=1
2018-08-30 19:19:42.722 Info HttpServer: Calling ServiceStack AppHost.Init
2018-08-30 19:19:42.952 Info HttpServer: Adding HttpListener prefix http://+:8096/
2018-08-30 19:19:42.952 Info HttpServer: Adding HttpListener prefix https://+:8920/
2018-08-30 19:19:43.067 Info Skia: SkiaSharp version: 1.60.0.0
2018-08-30 19:19:43.103 Info TaskManager: Daily trigger for Chapter image extraction set to fire at 2018-08-31 02:00:00, which is 400.281604645 minutes from now.
2018-08-30 19:19:43.106 Info TaskManager: Daily trigger for Rotate log file set to fire at 2018-08-31 00:00:00, which is 280.28155316 minutes from now.
2018-08-30 19:19:43.137 Info MediaEncoder: FFMpeg: C:\Users\Anon\AppData\Roaming\Emby-Server\system\ffmpeg.exe
2018-08-30 19:19:43.137 Info MediaEncoder: FFProbe: C:\Users\Anon\AppData\Roaming\Emby-Server\system\ffprobe.exe
2018-08-30 19:19:43.137 Info MediaEncoder: Validating media encoder at C:\Users\Anon\AppData\Roaming\Emby-Server\system\ffmpeg.exe
2018-08-30 19:19:43.139 Info MediaEncoder: Running C:\Users\Anon\AppData\Roaming\Emby-Server\system\ffmpeg.exe -decoders
2018-08-30 19:19:43.175 Info MediaEncoder: Decoder available: mpeg2video
2018-08-30 19:19:43.175 Info MediaEncoder: Decoder available: h264_qsv
2018-08-30 19:19:43.175 Info MediaEncoder: Decoder available: hevc_qsv
2018-08-30 19:19:43.175 Info MediaEncoder: Decoder available: mpeg2_qsv
2018-08-30 19:19:43.175 Info MediaEncoder: Decoder available: vc1_qsv
2018-08-30 19:19:43.175 Info MediaEncoder: Decoder available: h264_cuvid
2018-08-30 19:19:43.175 Info MediaEncoder: Decoder available: hevc_cuvid
2018-08-30 19:19:43.175 Info MediaEncoder: Decoder available: mpeg2_cuvid
2018-08-30 19:19:43.175 Info MediaEncoder: Decoder available: mpeg4_cuvid
2018-08-30 19:19:43.175 Info MediaEncoder: Decoder available: vc1_cuvid
2018-08-30 19:19:43.175 Info MediaEncoder: Decoder available: vp8_cuvid
2018-08-30 19:19:43.175 Info MediaEncoder: Decoder available: vp9_cuvid
2018-08-30 19:19:43.177 Info MediaEncoder: Decoder available: ac3
2018-08-30 19:19:43.177 Info MediaEncoder: Decoder available: aac
2018-08-30 19:19:43.177 Info MediaEncoder: Decoder available: mp3
2018-08-30 19:19:43.177 Info MediaEncoder: Decoder available: h264
2018-08-30 19:19:43.177 Info MediaEncoder: Decoder available: hevc
2018-08-30 19:19:43.179 Info MediaEncoder: Running C:\Users\Anon\AppData\Roaming\Emby-Server\system\ffmpeg.exe -encoders
2018-08-30 19:19:43.210 Info MediaEncoder: Encoder available: libx264
2018-08-30 19:19:43.210 Info MediaEncoder: Encoder available: libx265
2018-08-30 19:19:43.210 Info MediaEncoder: Encoder available: mpeg4
2018-08-30 19:19:43.210 Info MediaEncoder: Encoder available: msmpeg4
2018-08-30 19:19:43.210 Info MediaEncoder: Encoder available: libvpx
2018-08-30 19:19:43.210 Info MediaEncoder: Encoder available: libvpx-vp9
2018-08-30 19:19:43.210 Info MediaEncoder: Encoder available: aac
2018-08-30 19:19:43.210 Info MediaEncoder: Encoder available: libmp3lame
2018-08-30 19:19:43.210 Info MediaEncoder: Encoder available: libopus
2018-08-30 19:19:43.210 Info MediaEncoder: Encoder available: libvorbis
2018-08-30 19:19:43.210 Info MediaEncoder: Encoder available: srt
2018-08-30 19:19:43.210 Info MediaEncoder: Encoder available: h264_nvenc
2018-08-30 19:19:43.210 Info MediaEncoder: Encoder available: hevc_nvenc
2018-08-30 19:19:43.210 Info MediaEncoder: Encoder available: h264_qsv
2018-08-30 19:19:43.210 Info MediaEncoder: Encoder available: hevc_qsv
2018-08-30 19:19:43.210 Info MediaEncoder: Encoder available: libwebp
2018-08-30 19:19:43.210 Info MediaEncoder: Encoder available: ac3
2018-08-30 19:19:43.210 Info MediaEncoder: Encoder available: h264_amf
2018-08-30 19:19:43.211 Info MediaEncoder: Running C:\Users\Anon\AppData\Roaming\Emby-Server\system\ffmpeg.exe -protocols
2018-08-30 19:19:43.236 Info MediaEncoder: Encoder validation complete
2018-08-30 19:19:43.236 Info MediaEncoder: ffmpeg supported protocols: async,bluray,cache,concat,crypto,data,ffrtmpcrypt,ffrtmphttp,file,ftp,gopher,hls,http,httpproxy,https,mmsh,mmst,pipe,rtmp,rtmpe,rtmps,rtmpt,rtmpte,rtmpts,rtp,srtp,subfile,tcp,tls,udp,udplite
2018-08-30 19:19:43.238 Info App: ServerId: b0148fd6b4214e85abb91631be87c0d1
2018-08-30 19:19:43.269 Info App: Starting entry point MediaBrowser.WebDashboard.ServerEntryPoint
2018-08-30 19:19:43.269 Info App: Entry point completed: MediaBrowser.WebDashboard.ServerEntryPoint. Duration: 0.0004433 seconds
2018-08-30 19:19:43.269 Info App: Starting entry point Emby.Dlna.Main.DlnaEntryPoint
2018-08-30 19:19:43.438 Info App: Entry point completed: Emby.Dlna.Main.DlnaEntryPoint. Duration: 0.1681176 seconds
2018-08-30 19:19:43.438 Info App: Starting entry point Emby.Server.Connect.ConnectEntryPoint
2018-08-30 19:19:43.439 Info App: Loading data from C:\Users\Anon\AppData\Roaming\Emby-Server\programdata\data\connect.txt
2018-08-30 19:19:43.444 Info App: Loading data from C:\Users\Anon\AppData\Roaming\Emby-Server\programdata\data\wan.dat
2018-08-30 19:19:43.459 Info App: Entry point completed: Emby.Server.Connect.ConnectEntryPoint. Duration: 0.0214253 seconds
2018-08-30 19:19:43.459 Info App: Core startup complete
2018-08-30 19:19:43.459 Info App: Post-init migrations complete
2018-08-30 19:19:43.459 Info App: Starting entry point Emby.Security.PluginSecurityManager
2018-08-30 19:19:43.459 Info App: Entry point completed: Emby.Security.PluginSecurityManager. Duration: 4.06E-05 seconds
2018-08-30 19:19:43.459 Info App: Starting entry point Emby.Server.CinemaMode.IntrosEntryPoint
2018-08-30 19:19:43.459 Info App: Entry point completed: Emby.Server.CinemaMode.IntrosEntryPoint. Duration: 0.0001536 seconds
2018-08-30 19:19:43.459 Info App: Starting entry point Trakt.ServerMediator
2018-08-30 19:19:43.460 Info App: Entry point completed: Trakt.ServerMediator. Duration: 0.0010109 seconds
2018-08-30 19:19:43.460 Info App: Starting entry point MediaBrowser.Api.ApiEntryPoint
2018-08-30 19:19:43.460 Info App: Entry point completed: MediaBrowser.Api.ApiEntryPoint. Duration: 4.04E-05 seconds
2018-08-30 19:19:43.460 Info App: Starting entry point Emby.Server.Implementations.News.NewsEntryPoint
2018-08-30 19:19:43.461 Info App: Entry point completed: Emby.Server.Implementations.News.NewsEntryPoint. Duration: 0.0002143 seconds
2018-08-30 19:19:43.461 Info App: Starting entry point Emby.Server.Implementations.LiveTv.EmbyTV.EntryPoint
2018-08-30 19:19:43.463 Info App: Loading live tv data from C:\Users\Anon\AppData\Roaming\Emby-Server\programdata\data\livetv\timers
2018-08-30 19:19:43.526 Info Dlna: Registering publisher for urn:schemas-upnp-org:device:MediaServer:1 on 192.168.1.2
2018-08-30 19:19:43.543 Info HttpServer: HTTP GET http://192.168.1.2:8096/dlna/b0148fd6b4214e85abb91631be87c0d1/description.xml. UserAgent: 
2018-08-30 19:19:43.544 Info Dlna: Registering publisher for urn:schemas-upnp-org:device:MediaServer:1 on fe80::34eb:99aa:b679:ba7%20
2018-08-30 19:19:43.558 Info HttpServer: HTTP GET http://[fe80::34eb:99aa:b679:ba7]:8096/dlna/b0148fd6b4214e85abb91631be87c0d1/description.xml. UserAgent: 
2018-08-30 19:19:43.576 Info HttpServer: HTTP GET http://192.168.1.2:8096/dlna/b0148fd6b4214e85abb91631be87c0d1/icons/logo240.png. UserAgent: 
2018-08-30 19:19:43.576 Info HttpServer: HTTP Response 200 to 192.168.1.2. Time: 34ms. http://192.168.1.2:8096/dlna/b0148fd6b4214e85abb91631be87c0d1/description.xml 
2018-08-30 19:19:43.576 Info HttpServer: HTTP Response 200 to fe80::34eb:99aa:b679:ba7%20. Time: 18ms. http://[fe80::34eb:99aa:b679:ba7]:8096/dlna/b0148fd6b4214e85abb91631be87c0d1/description.xml 
2018-08-30 19:19:43.577 Info HttpServer: HTTP GET http://192.168.1.2:8096/dlna/b0148fd6b4214e85abb91631be87c0d1/icons/logo120.png. UserAgent: 
2018-08-30 19:19:43.577 Info HttpServer: HTTP GET http://[fe80::34eb:99aa:b679:ba7]:8096/dlna/b0148fd6b4214e85abb91631be87c0d1/icons/logo240.png. UserAgent: 
2018-08-30 19:19:43.577 Info HttpServer: HTTP GET http://[fe80::34eb:99aa:b679:ba7]:8096/dlna/b0148fd6b4214e85abb91631be87c0d1/icons/logo120.png. UserAgent: 
2018-08-30 19:19:43.577 Info HttpServer: HTTP GET http://192.168.1.2:8096/dlna/b0148fd6b4214e85abb91631be87c0d1/icons/logo48.png. UserAgent: 
2018-08-30 19:19:43.577 Info HttpServer: HTTP GET http://[fe80::34eb:99aa:b679:ba7]:8096/dlna/b0148fd6b4214e85abb91631be87c0d1/icons/logo48.png. UserAgent: 
2018-08-30 19:19:43.577 Info HttpServer: HTTP GET http://192.168.1.2:8096/dlna/b0148fd6b4214e85abb91631be87c0d1/connectionmanager/connectionmanager.xml. UserAgent: 
2018-08-30 19:19:43.577 Info HttpServer: HTTP GET http://[fe80::34eb:99aa:b679:ba7]:8096/dlna/b0148fd6b4214e85abb91631be87c0d1/connectionmanager/connectionmanager.xml. UserAgent: 
2018-08-30 19:19:43.578 Info HttpServer: HTTP Response 200 to fe80::34eb:99aa:b679:ba7%20. Time: 1ms. http://[fe80::34eb:99aa:b679:ba7]:8096/dlna/b0148fd6b4214e85abb91631be87c0d1/icons/logo240.png 
2018-08-30 19:19:43.578 Info HttpServer: HTTP Response 200 to 192.168.1.2. Time: 1ms. http://192.168.1.2:8096/dlna/b0148fd6b4214e85abb91631be87c0d1/icons/logo48.png 
2018-08-30 19:19:43.578 Info HttpServer: HTTP GET http://192.168.1.2:8096/dlna/b0148fd6b4214e85abb91631be87c0d1/contentdirectory/contentdirectory.xml. UserAgent: 
2018-08-30 19:19:43.578 Info HttpServer: HTTP GET http://[fe80::34eb:99aa:b679:ba7]:8096/dlna/b0148fd6b4214e85abb91631be87c0d1/contentdirectory/contentdirectory.xml. UserAgent: 
2018-08-30 19:19:43.578 Info HttpServer: HTTP Response 200 to 192.168.1.2. Time: 2ms. http://192.168.1.2:8096/dlna/b0148fd6b4214e85abb91631be87c0d1/icons/logo240.png 
2018-08-30 19:19:43.579 Info HttpServer: HTTP Response 200 to fe80::34eb:99aa:b679:ba7%20. Time: 2ms. http://[fe80::34eb:99aa:b679:ba7]:8096/dlna/b0148fd6b4214e85abb91631be87c0d1/icons/logo120.png 
2018-08-30 19:19:43.579 Info HttpServer: HTTP Response 200 to 192.168.1.2. Time: 2ms. http://192.168.1.2:8096/dlna/b0148fd6b4214e85abb91631be87c0d1/icons/logo120.png 
2018-08-30 19:19:43.579 Info HttpServer: HTTP Response 200 to fe80::34eb:99aa:b679:ba7%20. Time: 2ms. http://[fe80::34eb:99aa:b679:ba7]:8096/dlna/b0148fd6b4214e85abb91631be87c0d1/icons/logo48.png 
2018-08-30 19:19:43.588 Info HttpServer: HTTP Response 200 to fe80::34eb:99aa:b679:ba7%20. Time: 11ms. http://[fe80::34eb:99aa:b679:ba7]:8096/dlna/b0148fd6b4214e85abb91631be87c0d1/connectionmanager/connectionmanager.xml 
2018-08-30 19:19:43.588 Info HttpServer: HTTP Response 200 to 192.168.1.2. Time: 11ms. http://192.168.1.2:8096/dlna/b0148fd6b4214e85abb91631be87c0d1/connectionmanager/connectionmanager.xml 
2018-08-30 19:19:43.590 Info HttpServer: HTTP Response 200 to fe80::34eb:99aa:b679:ba7%20. Time: 11ms. http://[fe80::34eb:99aa:b679:ba7]:8096/dlna/b0148fd6b4214e85abb91631be87c0d1/contentdirectory/contentdirectory.xml 
2018-08-30 19:19:43.590 Info HttpServer: HTTP Response 200 to 192.168.1.2. Time: 11ms. http://192.168.1.2:8096/dlna/b0148fd6b4214e85abb91631be87c0d1/contentdirectory/contentdirectory.xml 
2018-08-30 19:19:43.641 Info App: Entry point completed: Emby.Server.Implementations.LiveTv.EmbyTV.EntryPoint. Duration: 0.1806394 seconds
2018-08-30 19:19:43.641 Info App: Starting entry point Emby.Server.Implementations.Library.DeviceAccessEntryPoint
2018-08-30 19:19:43.642 Info App: Entry point completed: Emby.Server.Implementations.Library.DeviceAccessEntryPoint. Duration: 0.0003543 seconds
2018-08-30 19:19:43.642 Info App: Starting entry point Emby.Server.Implementations.IO.LibraryMonitorStartup
2018-08-30 19:19:43.658 Info App: Entry point completed: Emby.Server.Implementations.IO.LibraryMonitorStartup. Duration: 0.0168546 seconds
2018-08-30 19:19:43.659 Info App: Starting entry point Emby.Server.Implementations.EntryPoints.AutomaticRestartEntryPoint
2018-08-30 19:19:43.659 Info App: Entry point completed: Emby.Server.Implementations.EntryPoints.AutomaticRestartEntryPoint. Duration: 0.0005349 seconds
2018-08-30 19:19:43.659 Info App: Starting entry point Emby.Server.Implementations.EntryPoints.ExternalPortForwarding
2018-08-30 19:19:43.661 Info LibraryMonitor: Watching directory D:\Library\TV Shows
2018-08-30 19:19:43.661 Info LibraryMonitor: Watching directory D:\Library\Movies
2018-08-30 19:19:43.661 Info LibraryMonitor: Watching directory E:\Library\Movies
2018-08-30 19:19:43.661 Info LibraryMonitor: Watching directory D:\Library\Anime
2018-08-30 19:19:43.661 Info LibraryMonitor: Watching directory E:\Library\TV Shows
2018-08-30 19:19:43.683 Info App: Entry point completed: Emby.Server.Implementations.EntryPoints.ExternalPortForwarding. Duration: 0.0243254 seconds
2018-08-30 19:19:43.683 Info App: Starting entry point Emby.Server.Implementations.EntryPoints.KeepServerAwake
2018-08-30 19:19:43.684 Info App: Entry point completed: Emby.Server.Implementations.EntryPoints.KeepServerAwake. Duration: 0.00016 seconds
2018-08-30 19:19:43.684 Info App: Starting entry point Emby.Server.Implementations.EntryPoints.LibraryChangedNotifier
2018-08-30 19:19:43.685 Info App: Entry point completed: Emby.Server.Implementations.EntryPoints.LibraryChangedNotifier. Duration: 0.0011381 seconds
2018-08-30 19:19:43.685 Info App: Starting entry point Emby.Server.Implementations.EntryPoints.RecordingNotifier
2018-08-30 19:19:43.686 Info App: Entry point completed: Emby.Server.Implementations.EntryPoints.RecordingNotifier. Duration: 0.0009809 seconds
2018-08-30 19:19:43.686 Info App: Starting entry point Emby.Server.Implementations.EntryPoints.ServerEventNotifier
2018-08-30 19:19:43.688 Info App: Entry point completed: Emby.Server.Implementations.EntryPoints.ServerEventNotifier. Duration: 0.002059 seconds
2018-08-30 19:19:43.688 Info App: Starting entry point Emby.Server.Implementations.EntryPoints.StartupWizard
2018-08-30 19:19:43.718 Info App: Entry point completed: Emby.Server.Implementations.EntryPoints.StartupWizard. Duration: 0.0298191 seconds
2018-08-30 19:19:43.718 Info App: Starting entry point Emby.Server.Implementations.EntryPoints.SystemEvents
2018-08-30 19:19:43.718 Info App: Entry point completed: Emby.Server.Implementations.EntryPoints.SystemEvents. Duration: 0.0005214 seconds
2018-08-30 19:19:43.718 Info App: Starting entry point Emby.Server.Implementations.EntryPoints.UdpServerEntryPoint
2018-08-30 19:19:43.720 Info App: Entry point completed: Emby.Server.Implementations.EntryPoints.UdpServerEntryPoint. Duration: 0.0014491 seconds
2018-08-30 19:19:43.720 Info App: Starting entry point Emby.Server.Implementations.EntryPoints.UsageEntryPoint
2018-08-30 19:19:43.722 Info App: Entry point completed: Emby.Server.Implementations.EntryPoints.UsageEntryPoint. Duration: 0.0018392 seconds
2018-08-30 19:19:43.722 Info App: Starting entry point Emby.Server.Implementations.EntryPoints.UserDataChangeNotifier
2018-08-30 19:19:43.722 Info App: Entry point completed: Emby.Server.Implementations.EntryPoints.UserDataChangeNotifier. Duration: 0.0001344 seconds
2018-08-30 19:19:43.722 Info App: Starting entry point Emby.Server.Implementations.Devices.DeviceManagerEntryPoint
2018-08-30 19:19:43.723 Info App: Entry point completed: Emby.Server.Implementations.Devices.DeviceManagerEntryPoint. Duration: 0.0014606 seconds
2018-08-30 19:19:43.723 Info App: Starting entry point Emby.Server.Implementations.Collections.CollectionManagerEntryPoint
2018-08-30 19:19:43.725 Info App: Entry point completed: Emby.Server.Implementations.Collections.CollectionManagerEntryPoint. Duration: 0.0016475 seconds
2018-08-30 19:19:43.725 Info App: Starting entry point Emby.Server.Implementations.Activity.ActivityLogEntryPoint
2018-08-30 19:19:43.729 Info App: Entry point completed: Emby.Server.Implementations.Activity.ActivityLogEntryPoint. Duration: 0.0043844 seconds
2018-08-30 19:19:43.729 Info App: Starting entry point Emby.Server.MediaEncoding.Api.ApiEntryPoint
2018-08-30 19:19:43.730 Info App: Entry point completed: Emby.Server.MediaEncoding.Api.ApiEntryPoint. Duration: 0.0009206 seconds
2018-08-30 19:19:43.730 Info App: Starting entry point Emby.Notifications.Notifications
2018-08-30 19:19:43.731 Info App: Entry point completed: Emby.Notifications.Notifications. Duration: 0.0006679 seconds
2018-08-30 19:19:43.731 Info App: Starting entry point MediaBrowser.XbmcMetadata.EntryPoint
2018-08-30 19:19:43.731 Info App: Entry point completed: MediaBrowser.XbmcMetadata.EntryPoint. Duration: 0.0001993 seconds
2018-08-30 19:19:43.731 Info App: Starting entry point Emby.Security.PluginSecurityManager
2018-08-30 19:19:43.731 Info App: Entry point completed: Emby.Security.PluginSecurityManager. Duration: 5.06E-05 seconds
2018-08-30 19:19:43.731 Info App: Starting entry point Emby.Server.Sync.SyncManagerEntryPoint
2018-08-30 19:19:43.735 Info App: Sqlite version: 3.24.0
2018-08-30 19:19:43.735 Info App: Sqlite compiler options: COMPILER=msvc-1500,ENABLE_COLUMN_METADATA,ENABLE_DBSTAT_VTAB,ENABLE_FTS3,ENABLE_FTS4,ENABLE_FTS5,ENABLE_JSON1,ENABLE_RTREE,MAX_TRIGGER_DEPTH=100,TEMP_STORE=1,THREADSAFE=1
2018-08-30 19:19:43.736 Info App: Default journal_mode for C:\Users\Anon\AppData\Roaming\Emby-Server\programdata\data\sync14.db is wal
2018-08-30 19:19:43.737 Info App: PRAGMA synchronous=1
2018-08-30 19:19:43.739 Info App: Entry point completed: Emby.Server.Sync.SyncManagerEntryPoint. Duration: 0.0073519 seconds
2018-08-30 19:19:43.739 Info App: Starting entry point Emby.Server.Sync.SyncNotificationEntryPoint
2018-08-30 19:19:43.740 Info App: Entry point completed: Emby.Server.Sync.SyncNotificationEntryPoint. Duration: 0.0014659 seconds
2018-08-30 19:19:43.740 Info App: All entry points have started
2018-08-30 19:19:43.964 Info HttpClient: GET https://emby.media/community/index.php?/blog/rss/1-media-browser-developers-blog
2018-08-30 19:19:44.045 Info HttpServer: HTTP GET http://192.168.1.2:8096/dlna/b0148fd6b4214e85abb91631be87c0d1/description.xml. UserAgent: UPnP/1.0 DLNADOC/1.50 Platinum/1.0.5.13
2018-08-30 19:19:44.045 Info HttpServer: HTTP Response 200 to 192.168.1.2. Time: 0ms. http://192.168.1.2:8096/dlna/b0148fd6b4214e85abb91631be87c0d1/description.xml 
2018-08-30 19:19:44.146 Info HttpServer: HTTP GET http://192.168.1.2:8096/dlna/b0148fd6b4214e85abb91631be87c0d1/contentdirectory/contentdirectory.xml. UserAgent: UPnP/1.0 DLNADOC/1.50 Platinum/1.0.5.13
2018-08-30 19:19:44.147 Info HttpServer: HTTP Response 200 to 192.168.1.2. Time: 0ms. http://192.168.1.2:8096/dlna/b0148fd6b4214e85abb91631be87c0d1/contentdirectory/contentdirectory.xml 
2018-08-30 19:19:44.147 Info HttpServer: HTTP GET http://192.168.1.2:8096/dlna/b0148fd6b4214e85abb91631be87c0d1/connectionmanager/connectionmanager.xml. UserAgent: UPnP/1.0 DLNADOC/1.50 Platinum/1.0.5.13
2018-08-30 19:19:44.147 Info HttpServer: HTTP Response 200 to 192.168.1.2. Time: 0ms. http://192.168.1.2:8096/dlna/b0148fd6b4214e85abb91631be87c0d1/connectionmanager/connectionmanager.xml 
2018-08-30 19:19:44.261 Info HttpServer: HTTP GET http://localhost:8096/web/strings/en-US.json?v=1535649584257. UserAgent: Mozilla/5.0 (Windows NT 10.0; Win64; x64) AppleWebKit/537.36 (KHTML, like Gecko) Chrome/68.0.3440.106 Safari/537.36
2018-08-30 19:19:44.261 Info HttpServer: HTTP GET http://localhost:8096/web/bower_components/emby-webcomponents/strings/en-us.json?v=1535649584257. UserAgent: Mozilla/5.0 (Windows NT 10.0; Win64; x64) AppleWebKit/537.36 (KHTML, like Gecko) Chrome/68.0.3440.106 Safari/537.36
2018-08-30 19:19:44.276 Info HttpServer: HTTP Response 200 to ::1. Time: 16ms. http://localhost:8096/web/strings/en-US.json?v=1535649584257 
2018-08-30 19:19:44.277 Info HttpServer: HTTP Response 200 to ::1. Time: 16ms. http://localhost:8096/web/bower_components/emby-webcomponents/strings/en-us.json?v=1535649584257 
2018-08-30 19:19:44.508 Info HttpServer: HTTP GET http://localhost:8096/emby/system/info/public. UserAgent: Mozilla/5.0 (Windows NT 10.0; Win64; x64) AppleWebKit/537.36 (KHTML, like Gecko) Chrome/68.0.3440.106 Safari/537.36
2018-08-30 19:19:44.548 Info HttpServer: HTTP Response 200 to ::1. Time: 40ms. http://localhost:8096/emby/system/info/public 
2018-08-30 19:19:44.557 Info HttpServer: HTTP GET http://localhost:8096/emby/System/Info. UserAgent: Mozilla/5.0 (Windows NT 10.0; Win64; x64) AppleWebKit/537.36 (KHTML, like Gecko) Chrome/68.0.3440.106 Safari/537.36
2018-08-30 19:19:44.629 Info App: App Activity: app: Emby Mobile, version: 3.5.2.0, deviceId: TW96aWxsYS81LjAgKFdpbmRvd3MgTlQgMTAuMDsgV2luNjQ7IHg2NCkgQXBwbGVXZWJLaXQvNTM3LjM2IChLSFRNTCwgbGlrZSBHZWNrbykgQ2hyb21lLzY4LjAuMzQ0MC4xMDYgU2FmYXJpLzUzNy4zNnwxNTM1MzkwNTIwMzIw, deviceName: Chrome
2018-08-30 19:19:44.652 Info HttpServer: HTTP Response 200 to ::1. Time: 95ms. http://localhost:8096/emby/System/Info 
2018-08-30 19:19:44.657 Info HttpServer: HTTP POST http://localhost:8096/emby/Sessions/Capabilities/Full. UserAgent: Mozilla/5.0 (Windows NT 10.0; Win64; x64) AppleWebKit/537.36 (KHTML, like Gecko) Chrome/68.0.3440.106 Safari/537.36
2018-08-30 19:19:44.659 Info HttpServer: HTTP GET http://localhost:8096/emby/Users/2408de7513d7427a9349a0aae9134a03. UserAgent: Mozilla/5.0 (Windows NT 10.0; Win64; x64) AppleWebKit/537.36 (KHTML, like Gecko) Chrome/68.0.3440.106 Safari/537.36
2018-08-30 19:19:44.659 Info HttpServer: HTTP GET http://localhost:8096/emby/DisplayPreferences/usersettings?userId=2408de7513d7427a9349a0aae9134a03&client=emby. UserAgent: Mozilla/5.0 (Windows NT 10.0; Win64; x64) AppleWebKit/537.36 (KHTML, like Gecko) Chrome/68.0.3440.106 Safari/537.36
2018-08-30 19:19:44.662 Info HttpServer: WS http://localhost:8096/embywebsocket?api_key=6e6443bf43054dc28cfe19e42ee6e362&deviceId=TW96aWxsYS81LjAgKFdpbmRvd3MgTlQgMTAuMDsgV2luNjQ7IHg2NCkgQXBwbGVXZWJLaXQvNTM3LjM2IChLSFRNTCwgbGlrZSBHZWNrbykgQ2hyb21lLzY4LjAuMzQ0MC4xMDYgU2FmYXJpLzUzNy4zNnwxNTM1MzkwNTIwMzIw. UserAgent: Mozilla/5.0 (Windows NT 10.0; Win64; x64) AppleWebKit/537.36 (KHTML, like Gecko) Chrome/68.0.3440.106 Safari/537.36
2018-08-30 19:19:44.695 Info HttpServer: HTTP Response 200 to ::1. Time: 36ms. http://localhost:8096/emby/DisplayPreferences/usersettings?userId=2408de7513d7427a9349a0aae9134a03&client=emby 
2018-08-30 19:19:44.725 Info HttpServer: HTTP Response 204 to ::1. Time: 68ms. http://localhost:8096/emby/Sessions/Capabilities/Full 
2018-08-30 19:19:44.727 Info HttpServer: HTTP Response 200 to ::1. Time: 69ms. http://localhost:8096/emby/Users/2408de7513d7427a9349a0aae9134a03 
2018-08-30 19:19:44.728 Info HttpServer: HTTP GET http://localhost:8096/emby/Users/2408de7513d7427a9349a0aae9134a03. UserAgent: Mozilla/5.0 (Windows NT 10.0; Win64; x64) AppleWebKit/537.36 (KHTML, like Gecko) Chrome/68.0.3440.106 Safari/537.36
2018-08-30 19:19:44.729 Info HttpServer: HTTP Response 200 to ::1. Time: 1ms. http://localhost:8096/emby/Users/2408de7513d7427a9349a0aae9134a03 
2018-08-30 19:19:44.732 Info HttpServer: HTTP GET http://localhost:8096/emby/Users/2408de7513d7427a9349a0aae9134a03. UserAgent: Mozilla/5.0 (Windows NT 10.0; Win64; x64) AppleWebKit/537.36 (KHTML, like Gecko) Chrome/68.0.3440.106 Safari/537.36
2018-08-30 19:19:44.732 Info HttpServer: HTTP Response 200 to ::1. Time: 1ms. http://localhost:8096/emby/Users/2408de7513d7427a9349a0aae9134a03 
2018-08-30 19:19:44.733 Info HttpServer: HTTP GET http://localhost:8096/emby/Users/2408de7513d7427a9349a0aae9134a03. UserAgent: Mozilla/5.0 (Windows NT 10.0; Win64; x64) AppleWebKit/537.36 (KHTML, like Gecko) Chrome/68.0.3440.106 Safari/537.36
2018-08-30 19:19:44.734 Info HttpServer: HTTP Response 200 to ::1. Time: 1ms. http://localhost:8096/emby/Users/2408de7513d7427a9349a0aae9134a03 
2018-08-30 19:19:44.739 Info HttpServer: HTTP GET http://localhost:8096/web/bower_components/emby-webcomponents/themes/logowhite.png. UserAgent: Mozilla/5.0 (Windows NT 10.0; Win64; x64) AppleWebKit/537.36 (KHTML, like Gecko) Chrome/68.0.3440.106 Safari/537.36
2018-08-30 19:19:44.740 Info HttpServer: HTTP Response 304 to ::1. Time: 1ms. http://localhost:8096/web/bower_components/emby-webcomponents/themes/logowhite.png 
2018-08-30 19:19:44.755 Info HttpServer: HTTP GET http://localhost:8096/emby/Users/2408de7513d7427a9349a0aae9134a03/Views. UserAgent: Mozilla/5.0 (Windows NT 10.0; Win64; x64) AppleWebKit/537.36 (KHTML, like Gecko) Chrome/68.0.3440.106 Safari/537.36
2018-08-30 19:19:44.868 Info HttpServer: HTTP Response 200 to ::1. Time: 114ms. http://localhost:8096/emby/Users/2408de7513d7427a9349a0aae9134a03/Views 
2018-08-30 19:19:44.869 Info HttpServer: HTTP GET http://localhost:8096/emby/Users/2408de7513d7427a9349a0aae9134a03/Views. UserAgent: Mozilla/5.0 (Windows NT 10.0; Win64; x64) AppleWebKit/537.36 (KHTML, like Gecko) Chrome/68.0.3440.106 Safari/537.36
2018-08-30 19:19:44.870 Info HttpServer: HTTP Response 200 to ::1. Time: 1ms. http://localhost:8096/emby/Users/2408de7513d7427a9349a0aae9134a03/Views 
2018-08-30 19:19:44.878 Info HttpServer: HTTP GET http://localhost:8096/emby/LiveTv/Programs/Recommended?userId=2408de7513d7427a9349a0aae9134a03&IsAiring=true&limit=1&ImageTypeLimit=1&EnableImageTypes=Primary%2CThumb%2CBackdrop&EnableTotalRecordCount=false&Fields=ChannelInfo%2CPrimaryImageAspectRatio. UserAgent: Mozilla/5.0 (Windows NT 10.0; Win64; x64) AppleWebKit/537.36 (KHTML, like Gecko) Chrome/68.0.3440.106 Safari/537.36
2018-08-30 19:19:44.916 Info HttpServer: HTTP Response 200 to ::1. Time: 39ms. http://localhost:8096/emby/LiveTv/Programs/Recommended?userId=2408de7513d7427a9349a0aae9134a03&IsAiring=true&limit=1&ImageTypeLimit=1&EnableImageTypes=Primary%2CThumb%2CBackdrop&EnableTotalRecordCount=false&Fields=ChannelInfo%2CPrimaryImageAspectRatio 
2018-08-30 19:19:44.923 Info HttpServer: HTTP GET http://localhost:8096/emby/Users/2408de7513d7427a9349a0aae9134a03/Items/Resume?Limit=12&Recursive=true&Fields=PrimaryImageAspectRatio%2CBasicSyncInfo&ImageTypeLimit=1&EnableImageTypes=Primary%2CBackdrop%2CThumb&EnableTotalRecordCount=false&MediaTypes=Video. UserAgent: Mozilla/5.0 (Windows NT 10.0; Win64; x64) AppleWebKit/537.36 (KHTML, like Gecko) Chrome/68.0.3440.106 Safari/537.36
2018-08-30 19:19:44.923 Info HttpServer: HTTP GET http://localhost:8096/emby/Users/2408de7513d7427a9349a0aae9134a03/Items/Resume?Limit=12&Recursive=true&Fields=PrimaryImageAspectRatio%2CBasicSyncInfo&ImageTypeLimit=1&EnableImageTypes=Primary%2CBackdrop%2CThumb&EnableTotalRecordCount=false&MediaTypes=Audio. UserAgent: Mozilla/5.0 (Windows NT 10.0; Win64; x64) AppleWebKit/537.36 (KHTML, like Gecko) Chrome/68.0.3440.106 Safari/537.36
2018-08-30 19:19:44.924 Info HttpServer: HTTP GET http://localhost:8096/emby/Shows/NextUp?Limit=24&Fields=PrimaryImageAspectRatio%2CSeriesInfo%2CDateCreated%2CBasicSyncInfo&UserId=2408de7513d7427a9349a0aae9134a03&ImageTypeLimit=1&EnableImageTypes=Primary%2CBackdrop%2CBanner%2CThumb&EnableTotalRecordCount=false. UserAgent: Mozilla/5.0 (Windows NT 10.0; Win64; x64) AppleWebKit/537.36 (KHTML, like Gecko) Chrome/68.0.3440.106 Safari/537.36
2018-08-30 19:19:44.927 Info HttpServer: HTTP GET http://localhost:8096/emby/Users/2408de7513d7427a9349a0aae9134a03/Items/Latest?Limit=16&Fields=PrimaryImageAspectRatio%2CBasicSyncInfo&ImageTypeLimit=1&EnableImageTypes=Primary%2CBackdrop%2CThumb&ParentId=f137a2dd21bbc1b99aa5c0f6bf02a805. UserAgent: Mozilla/5.0 (Windows NT 10.0; Win64; x64) AppleWebKit/537.36 (KHTML, like Gecko) Chrome/68.0.3440.106 Safari/537.36
2018-08-30 19:19:44.927 Info HttpServer: HTTP GET http://localhost:8096/emby/Users/2408de7513d7427a9349a0aae9134a03/Items/Latest?Limit=16&Fields=PrimaryImageAspectRatio%2CBasicSyncInfo&ImageTypeLimit=1&EnableImageTypes=Primary%2CBackdrop%2CThumb&ParentId=767bffe4f11c93ef34b805451a696a4e. UserAgent: Mozilla/5.0 (Windows NT 10.0; Win64; x64) AppleWebKit/537.36 (KHTML, like Gecko) Chrome/68.0.3440.106 Safari/537.36
2018-08-30 19:19:44.965 Info HttpServer: HTTP Response 200 to ::1. Time: 41ms. http://localhost:8096/emby/Users/2408de7513d7427a9349a0aae9134a03/Items/Resume?Limit=12&Recursive=true&Fields=PrimaryImageAspectRatio%2CBasicSyncInfo&ImageTypeLimit=1&EnableImageTypes=Primary%2CBackdrop%2CThumb&EnableTotalRecordCount=false&MediaTypes=Audio 
2018-08-30 19:19:45.002 Info HttpServer: HTTP Response 200 to ::1. Time: 79ms. http://localhost:8096/emby/Users/2408de7513d7427a9349a0aae9134a03/Items/Resume?Limit=12&Recursive=true&Fields=PrimaryImageAspectRatio%2CBasicSyncInfo&ImageTypeLimit=1&EnableImageTypes=Primary%2CBackdrop%2CThumb&EnableTotalRecordCount=false&MediaTypes=Video 
2018-08-30 19:19:45.010 Info HttpServer: HTTP Response 200 to ::1. Time: 83ms. http://localhost:8096/emby/Users/2408de7513d7427a9349a0aae9134a03/Items/Latest?Limit=16&Fields=PrimaryImageAspectRatio%2CBasicSyncInfo&ImageTypeLimit=1&EnableImageTypes=Primary%2CBackdrop%2CThumb&ParentId=f137a2dd21bbc1b99aa5c0f6bf02a805 
2018-08-30 19:19:45.012 Info HttpServer: HTTP Response 200 to ::1. Time: 85ms. http://localhost:8096/emby/Users/2408de7513d7427a9349a0aae9134a03/Items/Latest?Limit=16&Fields=PrimaryImageAspectRatio%2CBasicSyncInfo&ImageTypeLimit=1&EnableImageTypes=Primary%2CBackdrop%2CThumb&ParentId=767bffe4f11c93ef34b805451a696a4e 
2018-08-30 19:19:45.014 Info HttpServer: HTTP Response 200 to ::1. Time: 90ms. http://localhost:8096/emby/Shows/NextUp?Limit=24&Fields=PrimaryImageAspectRatio%2CSeriesInfo%2CDateCreated%2CBasicSyncInfo&UserId=2408de7513d7427a9349a0aae9134a03&ImageTypeLimit=1&EnableImageTypes=Primary%2CBackdrop%2CBanner%2CThumb&EnableTotalRecordCount=false 
2018-08-30 19:19:46.109 Info TaskManager: StartupTrigger fired for task: Check for application updates
2018-08-30 19:19:46.109 Info TaskManager: StartupTrigger fired for task: Sync library to trakt.tv
2018-08-30 19:19:46.109 Info TaskManager: StartupTrigger fired for task: Import playstates from Trakt.tv
2018-08-30 19:19:46.109 Info TaskManager: StartupTrigger fired for task: Check for plugin updates
2018-08-30 19:19:46.110 Info TaskManager: Queueing task SyncFromTraktTask
2018-08-30 19:19:46.110 Info TaskManager: Queueing task SystemUpdateTask
2018-08-30 19:19:46.110 Info TaskManager: Queueing task PluginUpdateTask
2018-08-30 19:19:46.110 Info TaskManager: Queueing task SyncLibraryTask
2018-08-30 19:19:46.115 Info TaskManager: Executing Sync library to trakt.tv
2018-08-30 19:19:46.115 Info TaskManager: Executing Check for application updates
2018-08-30 19:19:46.115 Info TaskManager: Executing Import playstates from Trakt.tv
2018-08-30 19:19:46.115 Info TaskManager: Executing Check for plugin updates
2018-08-30 19:19:46.155 Info HttpClient: GET https://api.trakt.tv/sync/watched/movies
2018-08-30 19:19:46.169 Info TaskManager: Check for application updates Completed after 0 minute(s) and 0 seconds
2018-08-30 19:19:46.186 Info TaskManager: Check for plugin updates Completed after 0 minute(s) and 0 seconds
2018-08-30 19:19:46.190 Info TaskManager: ExecuteQueuedTasks
2018-08-30 19:19:46.190 Info TaskManager: ExecuteQueuedTasks
2018-08-30 19:19:46.383 Info HttpClient: GET https://api.trakt.tv/sync/watched/movies
2018-08-30 19:19:46.532 Info HttpClient: GET https://api.trakt.tv/sync/collection/movies?extended=metadata
2018-08-30 19:19:47.059 Info HttpClient: GET https://api.trakt.tv/sync/watched/shows
2018-08-30 19:19:47.202 Info Trakt: Trakt.tv watched Movies count = 0
2018-08-30 19:19:47.202 Info Trakt: Trakt.tv watched Shows count = 1
2018-08-30 19:19:47.307 Info Trakt: Movies to add to Collection: 9
2018-08-30 19:19:47.320 Info HttpClient: POST https://api.trakt.tv/sync/collection
2018-08-30 19:19:47.328 Info TaskManager: Import playstates from Trakt.tv Completed after 0 minute(s) and 1 seconds
2018-08-30 19:19:47.332 Info TaskManager: ExecuteQueuedTasks
2018-08-30 19:19:47.563 Info Trakt: Movies to set watched: 0
2018-08-30 19:19:47.563 Info Trakt: Movies to set unwatched: 0
2018-08-30 19:19:47.570 Info HttpClient: GET https://api.trakt.tv/sync/watched/shows
2018-08-30 19:19:47.716 Info HttpClient: GET https://api.trakt.tv/sync/collection/shows?extended=metadata
2018-08-30 19:19:47.965 Info HttpServer: HTTP GET http://localhost:8096/emby/Sessions?ActiveWithinSeconds=960. UserAgent: Mozilla/5.0 (Windows NT 10.0; Win64; x64) AppleWebKit/537.36 (KHTML, like Gecko) Chrome/68.0.3440.106 Safari/537.36
2018-08-30 19:19:47.966 Info HttpServer: HTTP GET http://localhost:8096/emby/ScheduledTasks. UserAgent: Mozilla/5.0 (Windows NT 10.0; Win64; x64) AppleWebKit/537.36 (KHTML, like Gecko) Chrome/68.0.3440.106 Safari/537.36
2018-08-30 19:19:47.968 Info HttpServer: HTTP GET http://localhost:8096/emby/System/Info. UserAgent: Mozilla/5.0 (Windows NT 10.0; Win64; x64) AppleWebKit/537.36 (KHTML, like Gecko) Chrome/68.0.3440.106 Safari/537.36
2018-08-30 19:19:47.972 Info HttpServer: HTTP GET http://localhost:8096/emby/News/Product?StartIndex=0&Limit=4. UserAgent: Mozilla/5.0 (Windows NT 10.0; Win64; x64) AppleWebKit/537.36 (KHTML, like Gecko) Chrome/68.0.3440.106 Safari/537.36
2018-08-30 19:19:47.972 Info HttpServer: HTTP Response 200 to ::1. Time: 4ms. http://localhost:8096/emby/System/Info 
2018-08-30 19:19:47.972 Info HttpServer: HTTP GET http://localhost:8096/emby/System/ActivityLog/Entries?startIndex=0&limit=7&minDate=2018-08-29T17%3A19%3A47.962Z&hasUserId=true. UserAgent: Mozilla/5.0 (Windows NT 10.0; Win64; x64) AppleWebKit/537.36 (KHTML, like Gecko) Chrome/68.0.3440.106 Safari/537.36
2018-08-30 19:19:47.974 Info HttpServer: HTTP GET http://localhost:8096/emby/System/ActivityLog/Entries?startIndex=0&limit=4&minDate=2018-08-23T17%3A19%3A47.963Z&hasUserId=false. UserAgent: Mozilla/5.0 (Windows NT 10.0; Win64; x64) AppleWebKit/537.36 (KHTML, like Gecko) Chrome/68.0.3440.106 Safari/537.36
2018-08-30 19:19:47.981 Info HttpServer: HTTP Response 200 to ::1. Time: 9ms. http://localhost:8096/emby/News/Product?StartIndex=0&Limit=4 
2018-08-30 19:19:47.981 Info HttpServer: HTTP GET http://localhost:8096/emby/LiveTv/Recordings?UserId=2408de7513d7427a9349a0aae9134a03&IsInProgress=true&Fields=CanDelete%2CPrimaryImageAspectRatio&EnableTotalRecordCount=false&EnableImageTypes=Primary%2CThumb%2CBackdrop. UserAgent: Mozilla/5.0 (Windows NT 10.0; Win64; x64) AppleWebKit/537.36 (KHTML, like Gecko) Chrome/68.0.3440.106 Safari/537.36
2018-08-30 19:19:47.989 Info HttpServer: HTTP Response 200 to ::1. Time: 16ms. http://localhost:8096/emby/System/ActivityLog/Entries?startIndex=0&limit=7&minDate=2018-08-29T17%3A19%3A47.962Z&hasUserId=true 
2018-08-30 19:19:47.989 Info HttpServer: HTTP GET http://localhost:8096/emby/web/configurationpages?pageType=PluginConfiguration&EnableInMainMenu=true. UserAgent: Mozilla/5.0 (Windows NT 10.0; Win64; x64) AppleWebKit/537.36 (KHTML, like Gecko) Chrome/68.0.3440.106 Safari/537.36
2018-08-30 19:19:47.991 Info HttpServer: HTTP Response 200 to ::1. Time: 26ms. http://localhost:8096/emby/Sessions?ActiveWithinSeconds=960 
2018-08-30 19:19:47.994 Info HttpServer: HTTP Response 200 to ::1. Time: 20ms. http://localhost:8096/emby/System/ActivityLog/Entries?startIndex=0&limit=4&minDate=2018-08-23T17%3A19%3A47.963Z&hasUserId=false 
2018-08-30 19:19:47.997 Info HttpServer: HTTP Response 200 to ::1. Time: 16ms. http://localhost:8096/emby/LiveTv/Recordings?UserId=2408de7513d7427a9349a0aae9134a03&IsInProgress=true&Fields=CanDelete%2CPrimaryImageAspectRatio&EnableTotalRecordCount=false&EnableImageTypes=Primary%2CThumb%2CBackdrop 
2018-08-30 19:19:48.000 Info HttpServer: HTTP Response 200 to ::1. Time: 34ms. http://localhost:8096/emby/ScheduledTasks 
2018-08-30 19:19:48.011 Info HttpServer: HTTP Response 200 to ::1. Time: 22ms. http://localhost:8096/emby/web/configurationpages?pageType=PluginConfiguration&EnableInMainMenu=true 
2018-08-30 19:19:48.024 Info HttpServer: HTTP GET http://localhost:8096/emby/Packages/Updates?PackageType=System. UserAgent: Mozilla/5.0 (Windows NT 10.0; Win64; x64) AppleWebKit/537.36 (KHTML, like Gecko) Chrome/68.0.3440.106 Safari/537.36
2018-08-30 19:19:48.041 Info HttpServer: HTTP GET http://localhost:8096/emby/Packages/Updates?PackageType=UserInstalled. UserAgent: Mozilla/5.0 (Windows NT 10.0; Win64; x64) AppleWebKit/537.36 (KHTML, like Gecko) Chrome/68.0.3440.106 Safari/537.36
2018-08-30 19:19:48.043 Info Trakt: Episodes to add to Collection: 3
2018-08-30 19:19:48.067 Info HttpClient: POST https://api.trakt.tv/sync/collection
2018-08-30 19:19:48.083 Info HttpServer: HTTP Response 200 to ::1. Time: 59ms. http://localhost:8096/emby/Packages/Updates?PackageType=System 
2018-08-30 19:19:48.088 Info HttpServer: HTTP GET http://localhost:8096/web/css/images/logoblack.png. UserAgent: Mozilla/5.0 (Windows NT 10.0; Win64; x64) AppleWebKit/537.36 (KHTML, like Gecko) Chrome/68.0.3440.106 Safari/537.36
2018-08-30 19:19:48.089 Info HttpServer: HTTP Response 304 to ::1. Time: 0ms. http://localhost:8096/web/css/images/logoblack.png 
2018-08-30 19:19:48.099 Info HttpServer: HTTP Response 200 to ::1. Time: 58ms. http://localhost:8096/emby/Packages/Updates?PackageType=UserInstalled 
2018-08-30 19:19:48.214 Error Trakt: TraktResponse not Found:{"ids":{"tvdb":267440}}
2018-08-30 19:19:48.215 Info Trakt: Episodes to set watched: 0
2018-08-30 19:19:48.215 Info Trakt: Episodes to set unwatched: 0
2018-08-30 19:19:48.216 Info TaskManager: Sync library to trakt.tv Completed after 0 minute(s) and 2 seconds
2018-08-30 19:19:48.219 Info TaskManager: ExecuteQueuedTasks
2018-08-30 19:19:49.645 Info HttpServer: HTTP GET http://localhost:8096/emby/System/Logs. UserAgent: Mozilla/5.0 (Windows NT 10.0; Win64; x64) AppleWebKit/537.36 (KHTML, like Gecko) Chrome/68.0.3440.106 Safari/537.36
2018-08-30 19:19:49.645 Info HttpServer: HTTP GET http://localhost:8096/emby/System/Configuration. UserAgent: Mozilla/5.0 (Windows NT 10.0; Win64; x64) AppleWebKit/537.36 (KHTML, like Gecko) Chrome/68.0.3440.106 Safari/537.36
2018-08-30 19:19:49.652 Info HttpServer: HTTP Response 200 to ::1. Time: 7ms. http://localhost:8096/emby/System/Logs 
2018-08-30 19:19:49.654 Info HttpServer: HTTP Response 200 to ::1. Time: 9ms. http://localhost:8096/emby/System/Configuration 
2018-08-30 19:19:50.523 Info HttpServer: HTTP GET http://localhost:8096/emby/System/Configuration. UserAgent: Mozilla/5.0 (Windows NT 10.0; Win64; x64) AppleWebKit/537.36 (KHTML, like Gecko) Chrome/68.0.3440.106 Safari/537.36
2018-08-30 19:19:50.523 Info HttpServer: HTTP Response 200 to ::1. Time: 0ms. http://localhost:8096/emby/System/Configuration 
2018-08-30 19:19:50.527 Info HttpServer: HTTP POST http://localhost:8096/emby/System/Configuration. UserAgent: Mozilla/5.0 (Windows NT 10.0; Win64; x64) AppleWebKit/537.36 (KHTML, like Gecko) Chrome/68.0.3440.106 Safari/537.36
2018-08-30 19:19:50.538 Info ServerConfigurationManager: Saving system configuration
2018-08-30 19:19:50.542 Info HttpServer: HTTP Response 204 to ::1. Time: 15ms. http://localhost:8096/emby/System/Configuration 
2018-08-30 19:19:50.658 Info HttpServer: HTTP GET http://localhost:8096/emby/System/Endpoint. UserAgent: Mozilla/5.0 (Windows NT 10.0; Win64; x64) AppleWebKit/537.36 (KHTML, like Gecko) Chrome/68.0.3440.106 Safari/537.36
2018-08-30 19:19:50.661 Info HttpServer: HTTP Response 200 to ::1. Time: 3ms. http://localhost:8096/emby/System/Endpoint 
2018-08-30 19:19:53.602 Info HttpServer: HTTP GET http://localhost:8096/emby/Users/2408de7513d7427a9349a0aae9134a03/Views. UserAgent: Mozilla/5.0 (Windows NT 10.0; Win64; x64) AppleWebKit/537.36 (KHTML, like Gecko) Chrome/68.0.3440.106 Safari/537.36
2018-08-30 19:19:53.603 Info HttpServer: HTTP Response 200 to ::1. Time: 1ms. http://localhost:8096/emby/Users/2408de7513d7427a9349a0aae9134a03/Views 
2018-08-30 19:19:53.639 Info HttpServer: HTTP GET http://localhost:8096/web/thirdparty/jstree/themes/default/32px.png. UserAgent: Mozilla/5.0 (Windows NT 10.0; Win64; x64) AppleWebKit/537.36 (KHTML, like Gecko) Chrome/68.0.3440.106 Safari/537.36
2018-08-30 19:19:53.639 Info HttpServer: HTTP Response 304 to ::1. Time: 0ms. http://localhost:8096/web/thirdparty/jstree/themes/default/32px.png 
2018-08-30 19:19:53.639 Info HttpServer: HTTP GET http://localhost:8096/web/thirdparty/jstree/themes/default/throbber.gif. UserAgent: Mozilla/5.0 (Windows NT 10.0; Win64; x64) AppleWebKit/537.36 (KHTML, like Gecko) Chrome/68.0.3440.106 Safari/537.36
2018-08-30 19:19:53.639 Info HttpServer: HTTP Response 304 to ::1. Time: 0ms. http://localhost:8096/web/thirdparty/jstree/themes/default/throbber.gif 
2018-08-30 19:19:53.643 Info HttpServer: HTTP GET http://localhost:8096/emby/LiveTv/Channels?limit=0. UserAgent: Mozilla/5.0 (Windows NT 10.0; Win64; x64) AppleWebKit/537.36 (KHTML, like Gecko) Chrome/68.0.3440.106 Safari/537.36
2018-08-30 19:19:53.650 Info HttpServer: HTTP Response 200 to ::1. Time: 7ms. http://localhost:8096/emby/LiveTv/Channels?limit=0 
2018-08-30 19:19:53.663 Info HttpServer: HTTP GET http://localhost:8096/emby/Library/MediaFolders. UserAgent: Mozilla/5.0 (Windows NT 10.0; Win64; x64) AppleWebKit/537.36 (KHTML, like Gecko) Chrome/68.0.3440.106 Safari/537.36
2018-08-30 19:19:53.665 Info HttpServer: HTTP Response 200 to ::1. Time: 3ms. http://localhost:8096/emby/Library/MediaFolders 
2018-08-30 19:19:54.831 Info HttpServer: HTTP GET http://localhost:8096/emby/System/Configuration. UserAgent: Mozilla/5.0 (Windows NT 10.0; Win64; x64) AppleWebKit/537.36 (KHTML, like Gecko) Chrome/68.0.3440.106 Safari/537.36
2018-08-30 19:19:54.832 Info HttpServer: HTTP GET http://localhost:8096/emby/System/Logs. UserAgent: Mozilla/5.0 (Windows NT 10.0; Win64; x64) AppleWebKit/537.36 (KHTML, like Gecko) Chrome/68.0.3440.106 Safari/537.36
2018-08-30 19:19:54.832 Info HttpServer: HTTP Response 200 to ::1. Time: 1ms. http://localhost:8096/emby/System/Configuration 
2018-08-30 19:19:54.834 Info HttpServer: HTTP Response 200 to ::1. Time: 1ms. http://localhost:8096/emby/System/Logs 
2018-08-30 19:19:54.868 Info HttpServer: HTTP GET http://localhost:8096/emby/web/configurationpages?pageType=PluginConfiguration&EnableInMainMenu=true. UserAgent: Mozilla/5.0 (Windows NT 10.0; Win64; x64) AppleWebKit/537.36 (KHTML, like Gecko) Chrome/68.0.3440.106 Safari/537.36
2018-08-30 19:19:54.868 Info HttpServer: HTTP Response 200 to ::1. Time: 0ms. http://localhost:8096/emby/web/configurationpages?pageType=PluginConfiguration&EnableInMainMenu=true 
2018-08-30 19:19:57.780 Info HttpServer: HTTP GET http://localhost:8096/emby/ScheduledTasks?isHidden=false. UserAgent: Mozilla/5.0 (Windows NT 10.0; Win64; x64) AppleWebKit/537.36 (KHTML, like Gecko) Chrome/68.0.3440.106 Safari/537.36
2018-08-30 19:19:57.781 Info HttpServer: HTTP Response 200 to ::1. Time: 1ms. http://localhost:8096/emby/ScheduledTasks?isHidden=false 
2018-08-30 19:19:59.200 Info HttpServer: HTTP POST http://localhost:8096/emby/ScheduledTasks/Running/5e47e7d3542ace9c367691a65cb31e86. UserAgent: Mozilla/5.0 (Windows NT 10.0; Win64; x64) AppleWebKit/537.36 (KHTML, like Gecko) Chrome/68.0.3440.106 Safari/537.36
2018-08-30 19:19:59.201 Info TaskManager: Executing Import playstates from Trakt.tv
2018-08-30 19:19:59.201 Info HttpServer: HTTP Response 204 to ::1. Time: 1ms. http://localhost:8096/emby/ScheduledTasks/Running/5e47e7d3542ace9c367691a65cb31e86 
2018-08-30 19:19:59.201 Info HttpClient: GET https://api.trakt.tv/sync/watched/movies
2018-08-30 19:19:59.206 Info HttpServer: HTTP GET http://localhost:8096/emby/ScheduledTasks?isHidden=false. UserAgent: Mozilla/5.0 (Windows NT 10.0; Win64; x64) AppleWebKit/537.36 (KHTML, like Gecko) Chrome/68.0.3440.106 Safari/537.36
2018-08-30 19:19:59.206 Info HttpServer: HTTP Response 200 to ::1. Time: 1ms. http://localhost:8096/emby/ScheduledTasks?isHidden=false 
2018-08-30 19:19:59.378 Info HttpClient: GET https://api.trakt.tv/sync/watched/shows
2018-08-30 19:19:59.565 Info Trakt: Trakt.tv watched Movies count = 0
2018-08-30 19:19:59.565 Info Trakt: Trakt.tv watched Shows count = 1
2018-08-30 19:19:59.663 Info TaskManager: Import playstates from Trakt.tv Completed after 0 minute(s) and 0 seconds
2018-08-30 19:19:59.666 Info TaskManager: ExecuteQueuedTasks
2018-08-30 19:20:00.217 Info HttpServer: HTTP POST http://localhost:8096/emby/ScheduledTasks/Running/b1a52e63d5fb09335557d4f1e6402299. UserAgent: Mozilla/5.0 (Windows NT 10.0; Win64; x64) AppleWebKit/537.36 (KHTML, like Gecko) Chrome/68.0.3440.106 Safari/537.36
2018-08-30 19:20:00.218 Info TaskManager: Executing Sync library to trakt.tv
2018-08-30 19:20:00.218 Info HttpServer: HTTP Response 204 to ::1. Time: 0ms. http://localhost:8096/emby/ScheduledTasks/Running/b1a52e63d5fb09335557d4f1e6402299 
2018-08-30 19:20:00.218 Info HttpClient: GET https://api.trakt.tv/sync/watched/movies
2018-08-30 19:20:00.221 Info HttpServer: HTTP GET http://localhost:8096/emby/ScheduledTasks?isHidden=false. UserAgent: Mozilla/5.0 (Windows NT 10.0; Win64; x64) AppleWebKit/537.36 (KHTML, like Gecko) Chrome/68.0.3440.106 Safari/537.36
2018-08-30 19:20:00.222 Info HttpServer: HTTP Response 200 to ::1. Time: 1ms. http://localhost:8096/emby/ScheduledTasks?isHidden=false 
2018-08-30 19:20:00.403 Info HttpClient: GET https://api.trakt.tv/sync/collection/movies?extended=metadata
2018-08-30 19:20:00.928 Info Trakt: Movies to add to Collection: 9
2018-08-30 19:20:00.929 Info HttpClient: POST https://api.trakt.tv/sync/collection
2018-08-30 19:20:01.217 Info Trakt: Movies to set watched: 0
2018-08-30 19:20:01.217 Info Trakt: Movies to set unwatched: 0
2018-08-30 19:20:01.217 Info HttpClient: GET https://api.trakt.tv/sync/watched/shows
2018-08-30 19:20:01.502 Info HttpClient: GET https://api.trakt.tv/sync/collection/shows?extended=metadata
2018-08-30 19:20:01.762 Info Trakt: Episodes to add to Collection: 3
2018-08-30 19:20:01.762 Info HttpClient: POST https://api.trakt.tv/sync/collection
2018-08-30 19:20:01.945 Error Trakt: TraktResponse not Found:{"ids":{"tvdb":267440}}
2018-08-30 19:20:01.945 Info Trakt: Episodes to set watched: 0
2018-08-30 19:20:01.945 Info Trakt: Episodes to set unwatched: 0
2018-08-30 19:20:01.945 Info TaskManager: Sync library to trakt.tv Completed after 0 minute(s) and 1 seconds
2018-08-30 19:20:01.949 Info TaskManager: ExecuteQueuedTasks
2018-08-30 19:20:04.755 Info HttpServer: HTTP GET http://localhost:8096/emby/Users/2408de7513d7427a9349a0aae9134a03/Views. UserAgent: Mozilla/5.0 (Windows NT 10.0; Win64; x64) AppleWebKit/537.36 (KHTML, like Gecko) Chrome/68.0.3440.106 Safari/537.36
2018-08-30 19:20:04.756 Info HttpServer: HTTP Response 200 to ::1. Time: 1ms. http://localhost:8096/emby/Users/2408de7513d7427a9349a0aae9134a03/Views 
2018-08-30 19:20:04.757 Info HttpServer: HTTP GET http://localhost:8096/emby/Users/2408de7513d7427a9349a0aae9134a03/Views. UserAgent: Mozilla/5.0 (Windows NT 10.0; Win64; x64) AppleWebKit/537.36 (KHTML, like Gecko) Chrome/68.0.3440.106 Safari/537.36
2018-08-30 19:20:04.760 Info HttpServer: HTTP Response 200 to ::1. Time: 3ms. http://localhost:8096/emby/Users/2408de7513d7427a9349a0aae9134a03/Views 
2018-08-30 19:20:04.780 Info HttpServer: HTTP GET http://localhost:8096/emby/LiveTv/Programs/Recommended?userId=2408de7513d7427a9349a0aae9134a03&IsAiring=true&limit=1&ImageTypeLimit=1&EnableImageTypes=Primary%2CThumb%2CBackdrop&EnableTotalRecordCount=false&Fields=ChannelInfo%2CPrimaryImageAspectRatio. UserAgent: Mozilla/5.0 (Windows NT 10.0; Win64; x64) AppleWebKit/537.36 (KHTML, like Gecko) Chrome/68.0.3440.106 Safari/537.36
2018-08-30 19:20:04.781 Info HttpServer: HTTP Response 200 to ::1. Time: 1ms. http://localhost:8096/emby/LiveTv/Programs/Recommended?userId=2408de7513d7427a9349a0aae9134a03&IsAiring=true&limit=1&ImageTypeLimit=1&EnableImageTypes=Primary%2CThumb%2CBackdrop&EnableTotalRecordCount=false&Fields=ChannelInfo%2CPrimaryImageAspectRatio 
2018-08-30 19:20:04.796 Info HttpServer: HTTP GET http://localhost:8096/web/bower_components/emby-webcomponents/themes/logowhite.png. UserAgent: Mozilla/5.0 (Windows NT 10.0; Win64; x64) AppleWebKit/537.36 (KHTML, like Gecko) Chrome/68.0.3440.106 Safari/537.36
2018-08-30 19:20:04.797 Info HttpServer: HTTP Response 304 to ::1. Time: 0ms. http://localhost:8096/web/bower_components/emby-webcomponents/themes/logowhite.png 
2018-08-30 19:20:04.804 Info HttpServer: HTTP GET http://localhost:8096/emby/Users/2408de7513d7427a9349a0aae9134a03/Items/Resume?Limit=12&Recursive=true&Fields=PrimaryImageAspectRatio%2CBasicSyncInfo&ImageTypeLimit=1&EnableImageTypes=Primary%2CBackdrop%2CThumb&EnableTotalRecordCount=false&MediaTypes=Video. UserAgent: Mozilla/5.0 (Windows NT 10.0; Win64; x64) AppleWebKit/537.36 (KHTML, like Gecko) Chrome/68.0.3440.106 Safari/537.36
2018-08-30 19:20:04.805 Info HttpServer: HTTP GET http://localhost:8096/emby/Users/2408de7513d7427a9349a0aae9134a03/Items/Resume?Limit=12&Recursive=true&Fields=PrimaryImageAspectRatio%2CBasicSyncInfo&ImageTypeLimit=1&EnableImageTypes=Primary%2CBackdrop%2CThumb&EnableTotalRecordCount=false&MediaTypes=Audio. UserAgent: Mozilla/5.0 (Windows NT 10.0; Win64; x64) AppleWebKit/537.36 (KHTML, like Gecko) Chrome/68.0.3440.106 Safari/537.36
2018-08-30 19:20:04.805 Info HttpServer: HTTP GET http://localhost:8096/emby/Shows/NextUp?Limit=24&Fields=PrimaryImageAspectRatio%2CSeriesInfo%2CDateCreated%2CBasicSyncInfo&UserId=2408de7513d7427a9349a0aae9134a03&ImageTypeLimit=1&EnableImageTypes=Primary%2CBackdrop%2CBanner%2CThumb&EnableTotalRecordCount=false. UserAgent: Mozilla/5.0 (Windows NT 10.0; Win64; x64) AppleWebKit/537.36 (KHTML, like Gecko) Chrome/68.0.3440.106 Safari/537.36
2018-08-30 19:20:04.805 Info HttpServer: HTTP GET http://localhost:8096/emby/Users/2408de7513d7427a9349a0aae9134a03/Items/Latest?Limit=16&Fields=PrimaryImageAspectRatio%2CBasicSyncInfo&ImageTypeLimit=1&EnableImageTypes=Primary%2CBackdrop%2CThumb&ParentId=f137a2dd21bbc1b99aa5c0f6bf02a805. UserAgent: Mozilla/5.0 (Windows NT 10.0; Win64; x64) AppleWebKit/537.36 (KHTML, like Gecko) Chrome/68.0.3440.106 Safari/537.36
2018-08-30 19:20:04.805 Info HttpServer: HTTP GET http://localhost:8096/emby/Users/2408de7513d7427a9349a0aae9134a03/Items/Latest?Limit=16&Fields=PrimaryImageAspectRatio%2CBasicSyncInfo&ImageTypeLimit=1&EnableImageTypes=Primary%2CBackdrop%2CThumb&ParentId=767bffe4f11c93ef34b805451a696a4e. UserAgent: Mozilla/5.0 (Windows NT 10.0; Win64; x64) AppleWebKit/537.36 (KHTML, like Gecko) Chrome/68.0.3440.106 Safari/537.36
2018-08-30 19:20:04.807 Info HttpServer: HTTP Response 200 to ::1. Time: 4ms. http://localhost:8096/emby/Users/2408de7513d7427a9349a0aae9134a03/Items/Resume?Limit=12&Recursive=true&Fields=PrimaryImageAspectRatio%2CBasicSyncInfo&ImageTypeLimit=1&EnableImageTypes=Primary%2CBackdrop%2CThumb&EnableTotalRecordCount=false&MediaTypes=Video 
2018-08-30 19:20:04.814 Info HttpServer: HTTP Response 200 to ::1. Time: 9ms. http://localhost:8096/emby/Users/2408de7513d7427a9349a0aae9134a03/Items/Latest?Limit=16&Fields=PrimaryImageAspectRatio%2CBasicSyncInfo&ImageTypeLimit=1&EnableImageTypes=Primary%2CBackdrop%2CThumb&ParentId=f137a2dd21bbc1b99aa5c0f6bf02a805 
2018-08-30 19:20:04.831 Info HttpServer: HTTP Response 200 to ::1. Time: 27ms. http://localhost:8096/emby/Users/2408de7513d7427a9349a0aae9134a03/Items/Resume?Limit=12&Recursive=true&Fields=PrimaryImageAspectRatio%2CBasicSyncInfo&ImageTypeLimit=1&EnableImageTypes=Primary%2CBackdrop%2CThumb&EnableTotalRecordCount=false&MediaTypes=Audio 
2018-08-30 19:20:04.833 Info HttpServer: HTTP Response 200 to ::1. Time: 28ms. http://localhost:8096/emby/Users/2408de7513d7427a9349a0aae9134a03/Items/Latest?Limit=16&Fields=PrimaryImageAspectRatio%2CBasicSyncInfo&ImageTypeLimit=1&EnableImageTypes=Primary%2CBackdrop%2CThumb&ParentId=767bffe4f11c93ef34b805451a696a4e 
2018-08-30 19:20:04.840 Info HttpServer: HTTP Response 200 to ::1. Time: 35ms. http://localhost:8096/emby/Shows/NextUp?Limit=24&Fields=PrimaryImageAspectRatio%2CSeriesInfo%2CDateCreated%2CBasicSyncInfo&UserId=2408de7513d7427a9349a0aae9134a03&ImageTypeLimit=1&EnableImageTypes=Primary%2CBackdrop%2CBanner%2CThumb&EnableTotalRecordCount=false 
2018-08-30 19:20:08.110 Info HttpServer: HTTP GET http://localhost:8096/emby/Users/2408de7513d7427a9349a0aae9134a03/Items/f137a2dd21bbc1b99aa5c0f6bf02a805. UserAgent: Mozilla/5.0 (Windows NT 10.0; Win64; x64) AppleWebKit/537.36 (KHTML, like Gecko) Chrome/68.0.3440.106 Safari/537.36
2018-08-30 19:20:08.116 Info HttpServer: HTTP Response 200 to ::1. Time: 6ms. http://localhost:8096/emby/Users/2408de7513d7427a9349a0aae9134a03/Items/f137a2dd21bbc1b99aa5c0f6bf02a805 
2018-08-30 19:20:08.131 Info HttpServer: HTTP GET http://localhost:8096/emby/Users/2408de7513d7427a9349a0aae9134a03/Items?SortBy=SortName&SortOrder=Ascending&IncludeItemTypes=Movie&Recursive=true&Fields=PrimaryImageAspectRatio%2CMediaSourceCount%2CBasicSyncInfo&ImageTypeLimit=1&EnableImageTypes=Primary%2CBackdrop%2CBanner%2CThumb&StartIndex=0&Limit=100&ParentId=f137a2dd21bbc1b99aa5c0f6bf02a805. UserAgent: Mozilla/5.0 (Windows NT 10.0; Win64; x64) AppleWebKit/537.36 (KHTML, like Gecko) Chrome/68.0.3440.106 Safari/537.36
2018-08-30 19:20:08.158 Info HttpServer: HTTP Response 200 to ::1. Time: 27ms. http://localhost:8096/emby/Users/2408de7513d7427a9349a0aae9134a03/Items?SortBy=SortName&SortOrder=Ascending&IncludeItemTypes=Movie&Recursive=true&Fields=PrimaryImageAspectRatio%2CMediaSourceCount%2CBasicSyncInfo&ImageTypeLimit=1&EnableImageTypes=Primary%2CBackdrop%2CBanner%2CThumb&StartIndex=0&Limit=100&ParentId=f137a2dd21bbc1b99aa5c0f6bf02a805 
2018-08-30 19:20:10.948 Info HttpServer: HTTP GET http://localhost:8096/emby/Sessions?ActiveWithinSeconds=960. UserAgent: Mozilla/5.0 (Windows NT 10.0; Win64; x64) AppleWebKit/537.36 (KHTML, like Gecko) Chrome/68.0.3440.106 Safari/537.36
2018-08-30 19:20:10.950 Info HttpServer: HTTP Response 200 to ::1. Time: 2ms. http://localhost:8096/emby/Sessions?ActiveWithinSeconds=960 
2018-08-30 19:20:10.950 Info HttpServer: HTTP GET http://localhost:8096/emby/ScheduledTasks. UserAgent: Mozilla/5.0 (Windows NT 10.0; Win64; x64) AppleWebKit/537.36 (KHTML, like Gecko) Chrome/68.0.3440.106 Safari/537.36
2018-08-30 19:20:10.951 Info HttpServer: HTTP GET http://localhost:8096/emby/System/Info. UserAgent: Mozilla/5.0 (Windows NT 10.0; Win64; x64) AppleWebKit/537.36 (KHTML, like Gecko) Chrome/68.0.3440.106 Safari/537.36
2018-08-30 19:20:10.952 Info HttpServer: HTTP Response 200 to ::1. Time: 1ms. http://localhost:8096/emby/ScheduledTasks 
2018-08-30 19:20:10.952 Info HttpServer: HTTP GET http://localhost:8096/emby/News/Product?StartIndex=0&Limit=4. UserAgent: Mozilla/5.0 (Windows NT 10.0; Win64; x64) AppleWebKit/537.36 (KHTML, like Gecko) Chrome/68.0.3440.106 Safari/537.36
2018-08-30 19:20:10.952 Info HttpServer: HTTP Response 200 to ::1. Time: 1ms. http://localhost:8096/emby/System/Info 
2018-08-30 19:20:10.952 Info HttpServer: HTTP GET http://localhost:8096/emby/System/ActivityLog/Entries?startIndex=0&limit=7&minDate=2018-08-29T17%3A20%3A10.943Z&hasUserId=true. UserAgent: Mozilla/5.0 (Windows NT 10.0; Win64; x64) AppleWebKit/537.36 (KHTML, like Gecko) Chrome/68.0.3440.106 Safari/537.36
2018-08-30 19:20:10.952 Info HttpServer: HTTP GET http://localhost:8096/emby/System/ActivityLog/Entries?startIndex=0&limit=4&minDate=2018-08-23T17%3A20%3A10.943Z&hasUserId=false. UserAgent: Mozilla/5.0 (Windows NT 10.0; Win64; x64) AppleWebKit/537.36 (KHTML, like Gecko) Chrome/68.0.3440.106 Safari/537.36
2018-08-30 19:20:10.953 Info HttpServer: HTTP Response 200 to ::1. Time: 1ms. http://localhost:8096/emby/News/Product?StartIndex=0&Limit=4 
2018-08-30 19:20:10.953 Info HttpServer: HTTP Response 200 to ::1. Time: 1ms. http://localhost:8096/emby/System/ActivityLog/Entries?startIndex=0&limit=7&minDate=2018-08-29T17%3A20%3A10.943Z&hasUserId=true 
2018-08-30 19:20:10.954 Info HttpServer: HTTP Response 200 to ::1. Time: 1ms. http://localhost:8096/emby/System/ActivityLog/Entries?startIndex=0&limit=4&minDate=2018-08-23T17%3A20%3A10.943Z&hasUserId=false 
2018-08-30 19:20:10.954 Info HttpServer: HTTP GET http://localhost:8096/emby/LiveTv/Recordings?UserId=2408de7513d7427a9349a0aae9134a03&IsInProgress=true&Fields=CanDelete%2CPrimaryImageAspectRatio&EnableTotalRecordCount=false&EnableImageTypes=Primary%2CThumb%2CBackdrop. UserAgent: Mozilla/5.0 (Windows NT 10.0; Win64; x64) AppleWebKit/537.36 (KHTML, like Gecko) Chrome/68.0.3440.106 Safari/537.36
2018-08-30 19:20:10.955 Info HttpServer: HTTP Response 200 to ::1. Time: 1ms. http://localhost:8096/emby/LiveTv/Recordings?UserId=2408de7513d7427a9349a0aae9134a03&IsInProgress=true&Fields=CanDelete%2CPrimaryImageAspectRatio&EnableTotalRecordCount=false&EnableImageTypes=Primary%2CThumb%2CBackdrop 
2018-08-30 19:20:10.956 Info HttpServer: HTTP GET http://localhost:8096/emby/web/configurationpages?pageType=PluginConfiguration&EnableInMainMenu=true. UserAgent: Mozilla/5.0 (Windows NT 10.0; Win64; x64) AppleWebKit/537.36 (KHTML, like Gecko) Chrome/68.0.3440.106 Safari/537.36
2018-08-30 19:20:10.956 Info HttpServer: HTTP Response 200 to ::1. Time: 0ms. http://localhost:8096/emby/web/configurationpages?pageType=PluginConfiguration&EnableInMainMenu=true 
2018-08-30 19:20:10.990 Info HttpServer: HTTP GET http://localhost:8096/emby/Packages/Updates?PackageType=UserInstalled. UserAgent: Mozilla/5.0 (Windows NT 10.0; Win64; x64) AppleWebKit/537.36 (KHTML, like Gecko) Chrome/68.0.3440.106 Safari/537.36
2018-08-30 19:20:10.992 Info HttpServer: HTTP GET http://localhost:8096/emby/Packages/Updates?PackageType=System. UserAgent: Mozilla/5.0 (Windows NT 10.0; Win64; x64) AppleWebKit/537.36 (KHTML, like Gecko) Chrome/68.0.3440.106 Safari/537.36
2018-08-30 19:20:11.023 Info HttpServer: HTTP Response 200 to ::1. Time: 31ms. http://localhost:8096/emby/Packages/Updates?PackageType=System 
2018-08-30 19:20:11.024 Info HttpServer: HTTP Response 200 to ::1. Time: 34ms. http://localhost:8096/emby/Packages/Updates?PackageType=UserInstalled 
2018-08-30 19:20:20.642 Info HttpServer: HTTP GET http://localhost:8096/emby/System/Logs. UserAgent: Mozilla/5.0 (Windows NT 10.0; Win64; x64) AppleWebKit/537.36 (KHTML, like Gecko) Chrome/68.0.3440.106 Safari/537.36
2018-08-30 19:20:20.643 Info HttpServer: HTTP GET http://localhost:8096/emby/System/Configuration. UserAgent: Mozilla/5.0 (Windows NT 10.0; Win64; x64) AppleWebKit/537.36 (KHTML, like Gecko) Chrome/68.0.3440.106 Safari/537.36
2018-08-30 19:20:20.644 Info HttpServer: HTTP Response 200 to ::1. Time: 1ms. http://localhost:8096/emby/System/Configuration 
2018-08-30 19:20:20.644 Info HttpServer: HTTP Response 200 to ::1. Time: 1ms. http://localhost:8096/emby/System/Logs 
2018-08-30 19:20:21.432 Info HttpServer: HTTP GET http://localhost:8096/emby/System/Logs/Log?name=embyserver.txt. UserAgent: Mozilla/5.0 (Windows NT 10.0; Win64; x64) AppleWebKit/537.36 (KHTML, like Gecko) Chrome/68.0.3440.106 Safari/537.36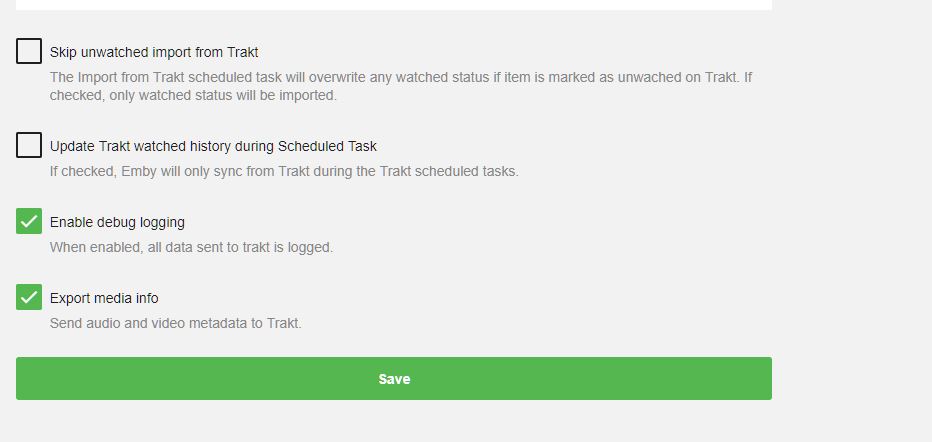 embyTraktSettings.JPG 36.26KB 3 downloads