Hi,
After playing with the DLNA profile I was able to direct play HEVC in my LG WebOS 3.0
But there is a file I'm not able to play. I checked the logs but there is nothing clear for me.

2018-03-26 09:59:38.713 Info HttpServer: HTTP POST http://192.168.1.44:8096/dlna/19a5fb91f97f40ad8a7e84a07939cc5e/contentdirectory/control. UserAgent: Linux/3.10.23-74.deua.5 UPnP/1.0 LGE WebOS TV LGE_DLNA_SDK/1.6.0/05.30.01 DLNADOC/1.50
2018-03-26 09:59:38.749 Error HttpClient: <?xml version="1.0" encoding="UTF-8"?>
<s:Envelope s:encodingStyle="http://schemas.xmlsoap.org/soap/encoding/" xmlns:s="http://schemas.xmlsoap.org/soap/envelope/"><s:Body><s:Fault><faultcode>s:Client</faultcode><faultstring>UPnPError</faultstring><detail><UPnPError xmlns="urn:schemas-upnp-org:control-1-0"><errorCode>501</errorCode><errorDescription>Action Failed</errorDescription></UPnPError></detail></s:Fault></s:Body></s:Envelope>

And this is the Info of the file: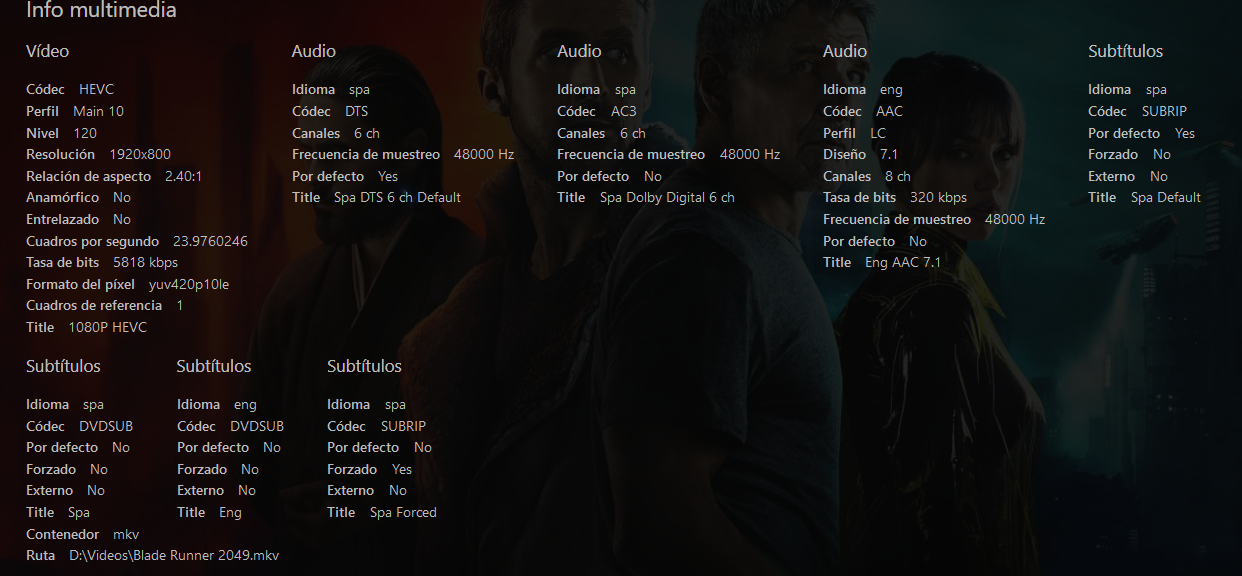 I can play other files with same Video codec, Audio codec and subs
Edited by brath23, 26 March 2018 - 04:35 AM.