Improved Performance
The entire server and all apps will perform better than ever before. This includes general navigation, and in some cases starting media playback.
Faster Live TV Guide Refreshes
The guide refresh process on the server will be much faster now, and in many cases will now complete in several seconds or less.
Improved DVR Recordings
Reliability is improved, and we now have timestamp correction which will help make the recorded files more playable across a broader range of devices and media players.
Raspberry Pi Hardware Acceleration
OMX hardware encoding is now supported on Raspberry Pi !
Updated Themes
Our themes have been freshened up a little to take advantage of newer browser features (Chrome 76+, Edge Insider, MacOS Safari).


Updated Detail Screen
We've improved consistency with our other apps by refreshing the detail screen buttons.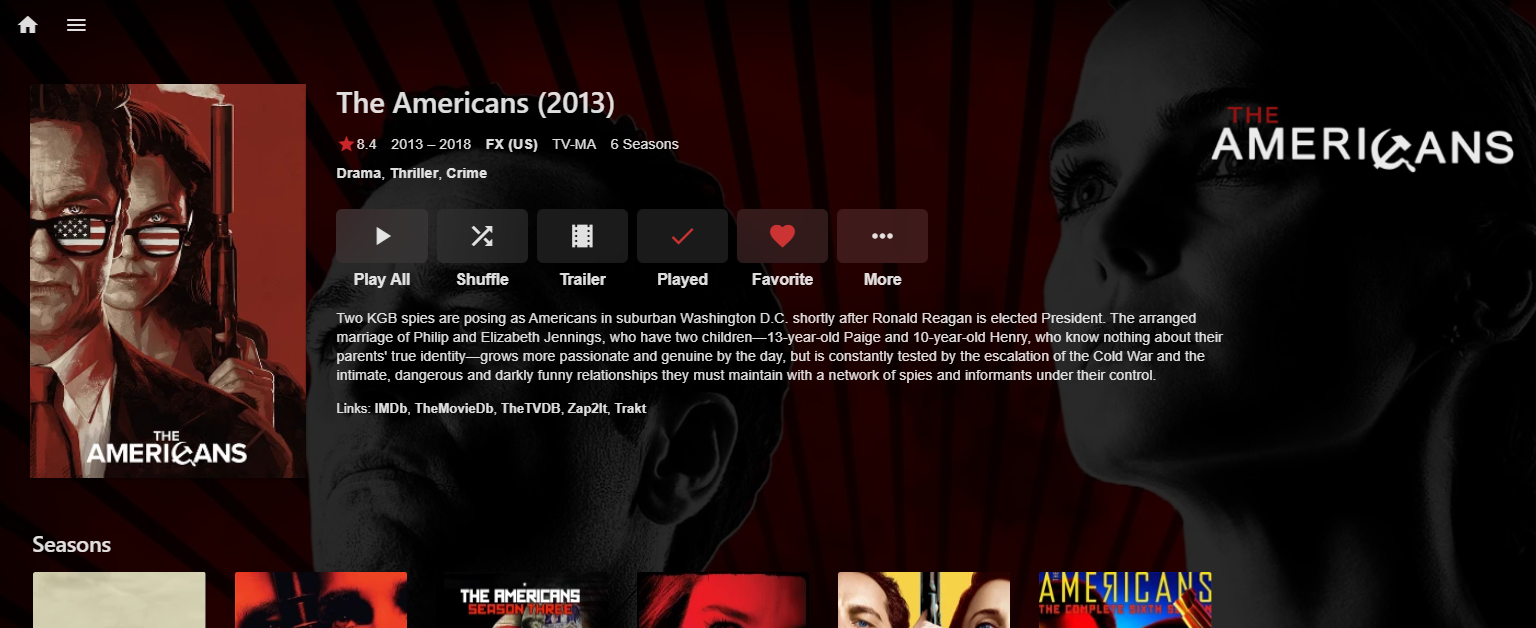 You can always get to your next episode quickly using the new Play Next Up button: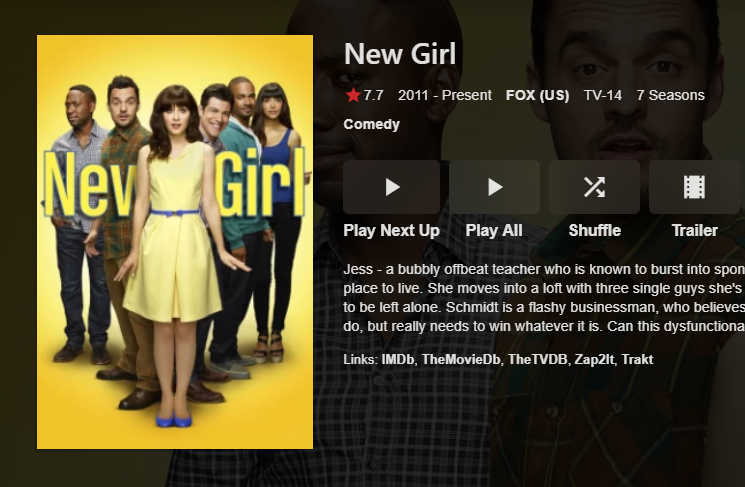 MacOS Improvements
Emby Server now supports keeping MacOS awake while users are active on your server. The delete function has also been extended to support the MacOS recycle bin.
Emby for Kodi Updates
The entire Kodi sync process will be faster, and lighter on it's feet than ever before. The server plugin is now extremely lightweight and will consume only a minimal amount of resources.
Emby for Kodi users are suggested to update their Emby for Kodi add-ons to the latest version in order to take full advantage of the performance improvements.
Tags Now Clickable
If you use tags, you can now click them from media detail screens and quickly see other items using the same tags.
Other Improvements
Update GCC compiler for improved ffmpeg performance
Update to Sqlite 3.29.0
Add timestamp correction for live streams and recordings
Improve database performance
Improve performance by eliminating unneeded messaging between Emby Server and Emby apps.
Improve search performance
Support delete to recycle bin on MacOS
Implement MacOS prevent system sleep
Improve transcoding for interlaced video
Add image download language library setting
Freshen up themes to utilize new browser features (chrome 76, Edge insider)
Show all next up on series detail screen
Improve next up performance
Improve performance of serving .tbn image files
Improve Upcoming on TV section
Expand Chinese metadata language options
Redesign local network password configuration
Enable support for nef photos
Display zxx language code as No linguistic content
Improve release notes display
Add subtitle color settings to the web app
Improve image processing error handling
Improve Cover Art plugin error handling
Disable cuda filters on 32bit Windows
Supports subs and subtitles sub-folders for videos
Support file: prefix in m3u playlists
Delete failed subtitle file downloads
Add DfsrPrivate to ignored folder list
Add .thumb to ignored folder list
Add iPod Photo Cache to ignored folder list
Show channel name in dvr schedule
Improve cleanup of missing episodes
Improve track display titles for mobile downloaded media
Preserve original file names when downloading log files
Improve refreshing of backdrop images
Reduce sync related database queries
Fix duplicate movies/trailers in similar items
Improve Czech subtitle encoding handling
Add app info to ffmpeg logs
Support customizing referrer for m3u tuners
Android: Ignore incompatible RockChip OMX decoders
Improve performance of live tv guide refresh
Move Dvd folder support to pre-installed plugin
Improve ignore rules for WMC temp folders
Try to improve shuffle sorting
Add additional filters to list screens
Add hidden config switch to vacuum databases


Bug Fixes
Fix conflicts with other Dlna apps on Linux
Various cinema mode fixes
Various throttle feature fixes
Fix incorrect next up entries
Fix live streams occasionally being left open
Fix dynamic images not being replaced periodically
Fix some videos stopping early in the web app
Fix seasons being incorrectly renamed when using Identify feature on Series
Fix live tv channel block via tags
Fix lan ip being lost after a period of time on Windows
Fix filtering with multi-version videos
Fix multi-version videos not showing in collections
Fix xmltv quality tag parsing
Add parental control tag restriction mode option
Fix sample files not being ignored in certain situations
Fix live tv channel search
Fix for QSV encoding errors with HDR video sources
Fix multi-select requiring extra click to close
Fix failures when attempting to convert empty subtitle files
Fix add to playlist not showing consistent results as other playlist views
Fix convert deleting original files of same name as new file
Fix genre image aspect ratio detection
Fix Nvidia green video issues
Fix image extraction for 3D videos
Fix web page title during video playback
Fix AC/DC adding artist with |
Fix old guests not being able to change password
Fix + in artist name causing A-Z prefixes to not appear
Fix subtitle failure with unrecognized language in file name

11