Android TV Updated with New Guide and Grid Views
---
A new update to the Android TV app will be released soon with a new fresh look and "smooth scrolling" capability in the live TV guide as well as new vertically scrolling grid views.
A Fresh, Smooth Guide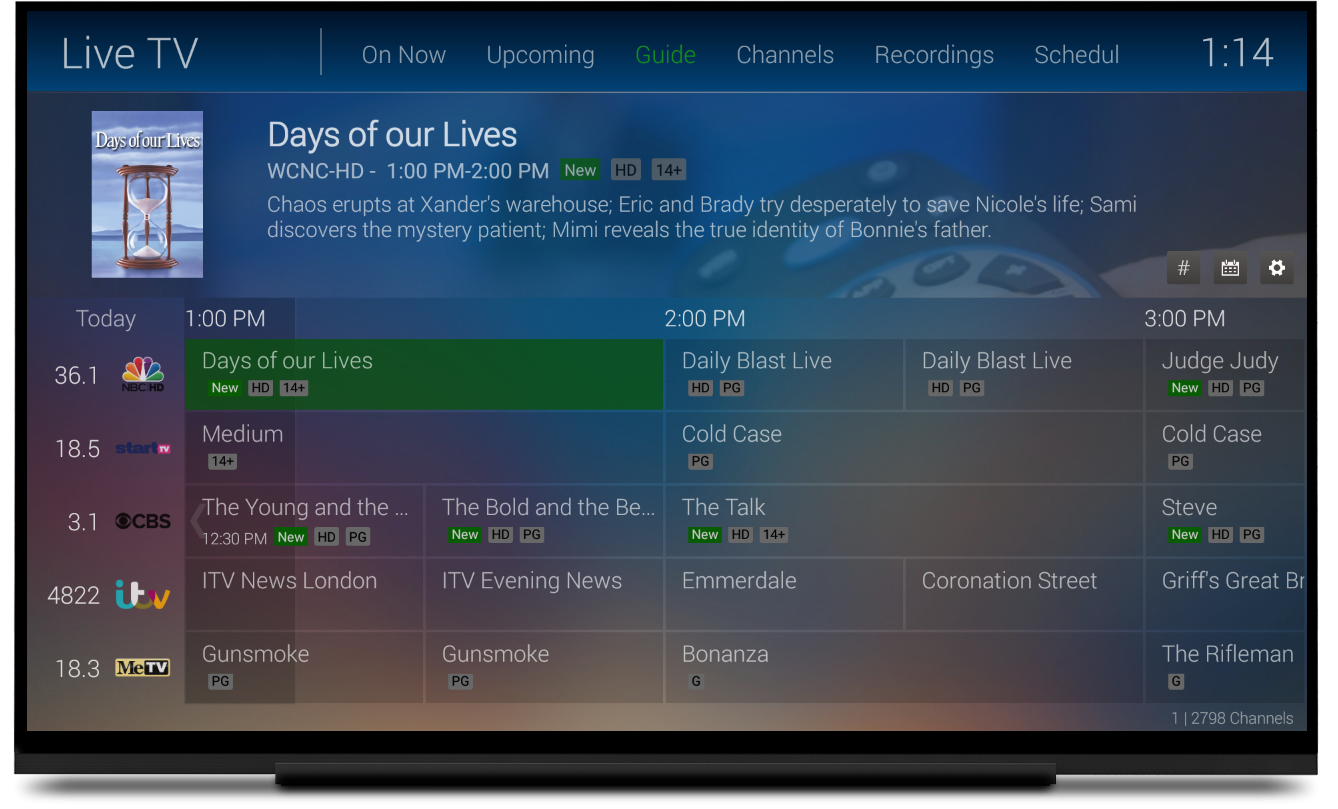 The live TV guide has received a make-over and now has smooth scrolling through both channels and time instead of the old "paging" implementation.
Going Vertical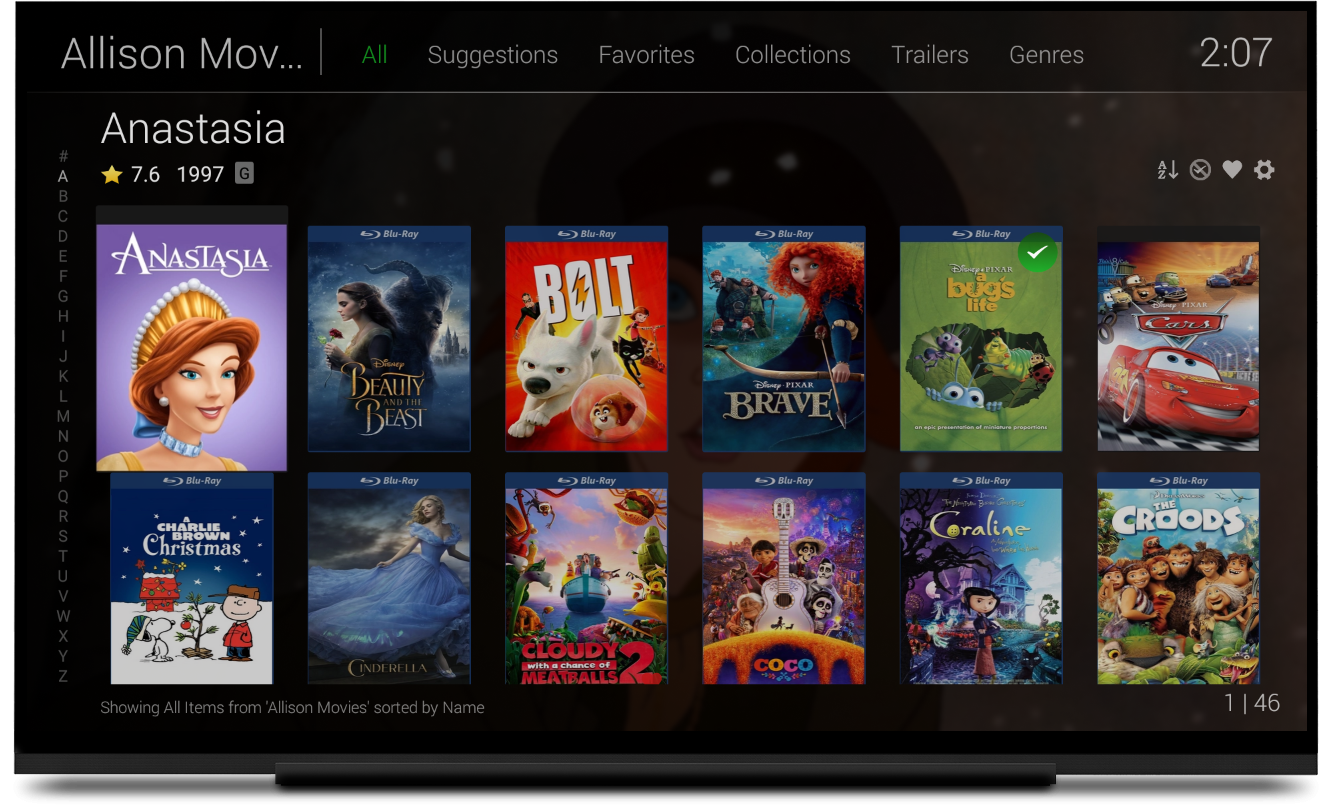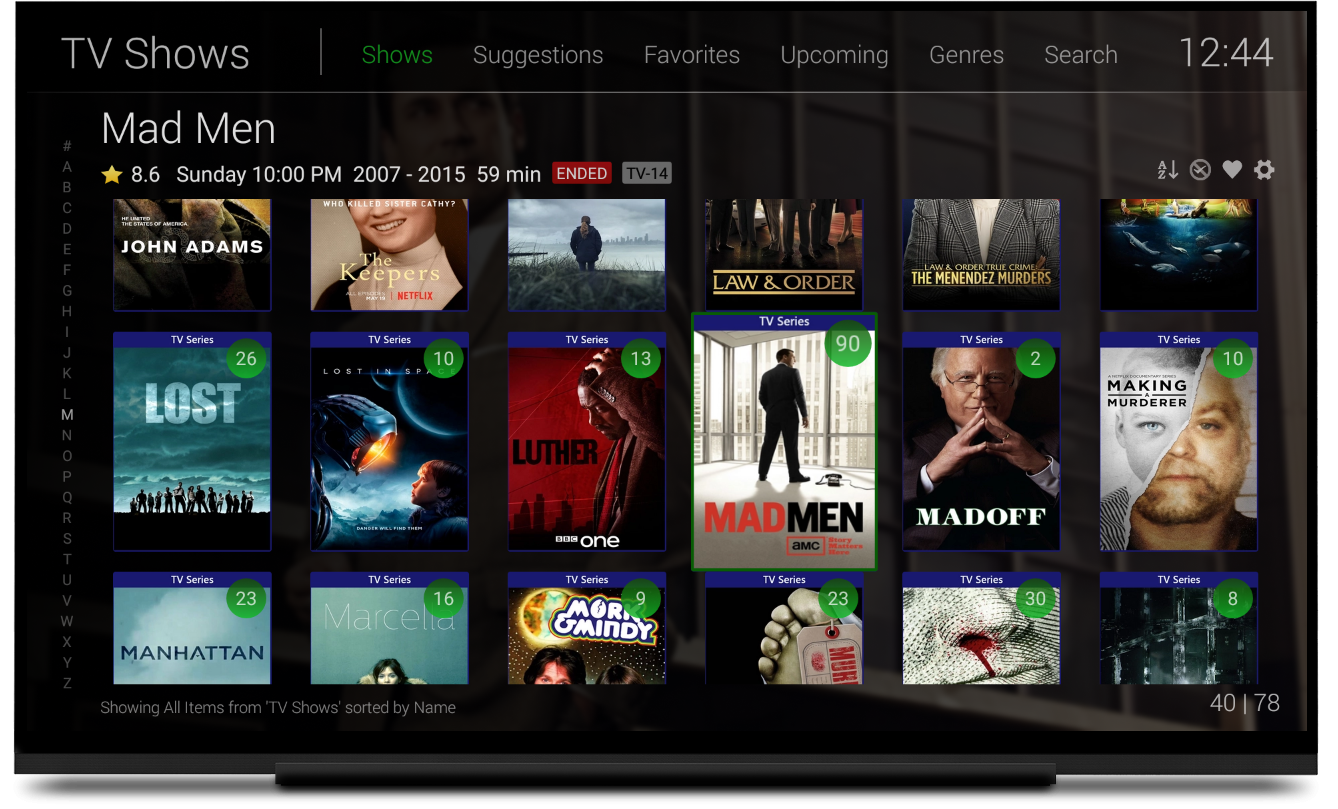 You spoke and we listened. The grid views in the app now default to a vertically scrolling presentation. This allows you to navigate large collections more quickly and is in line with the designs on all the other platforms. If, however, you really prefer the previous horizontal scrolling presentation in this app, you can switch back to that in any of the views you wish by selecting the "Settings" icon (cog wheel) on the toolbar and selecting that option. It will be remembered for that particular view from that point forward.
In addition, we've now made the direct letter jump bar visible at all times (instead of behind a button) for easy access and made it behave more like you would expect in that it moves you to the first item for that letter within the content instead of restricting the content to only items after that letter.
Improved Performance for European live TV Streams
This release also should make some of those problematic live TV streams that previously may have required you to select the MPV player option play correctly within the default player simplifying your playback experience. There should be no reason to select MPV as the player anymore but we have left the option there for now if you wish to enable it (this option may be removed in the future).

Other Improvements
In addition to the major items above, this release also includes the following fixes and improvements:
Improve playback error handling
Fix shuffle play of external audio playlists
Don't loop theme song playback
Scroll default tab into view upon library entry
Improve some default images

Fix external playlists not showing
Add option to not allow video stream copy for live TV
Properly remove items from "Play Next" when manually marked watched
Add 240Kb/s bitrate option

Ensure "Continue Watching" obeys server-side settings

Fix playing music artists

Fix people search against beta server
Fix album sort by year

Option for focus rectangle
Default to higher bitrate on local LAN on all devices

Improve app response when can't validate Premiere do to outage
Audible feedback for trying to seek past live time
Add container to media details
Update translations
Make small "Up Next" panel the default (up arrow expands to larger one)
Implement new WoL method
Direct play items from Play Next
Refresh home screen on library change
Fix Premiere not recognized immediately
Fix diacritics in device name causing login failure
Add favorite episodes row to Favorites view in TV library
Allow favorite filter in "All" movies and series views
Use thumbs for latest TV
Sort favorites by name

13