Update: This release got bumped to 8.0.67.1 due to a small bug with the IAP. If you have the original release, you'll get the update shortly.
Update 2: We have also made the IAP free for the following week
We are pleased to announce that the Windows Phone app has received a nice little update which contains a few new features and fixes. So what's new?
Emby Branding
We know, took us long enough, right?! Everything in the app has been renamed, rebranded, relogo'd to use our new name and new logo. If you spot anything we missed, well, I just don't like you (but let us know and we'll get it fixed).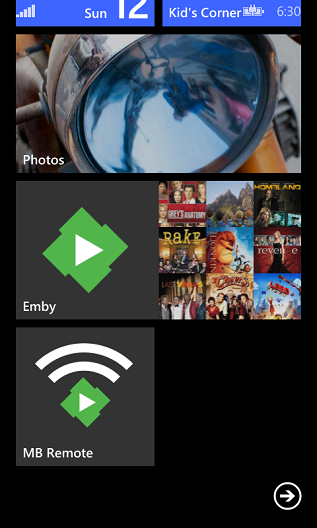 It's Free (sort of)
Previously, the app had to be purchased, but it did come with a trial mode. We felt that even though it had a trial mode, the fact the app shows as having a cost may have been putting off some users. So what this update brings is a removal of the cost for the app, whilst offering an In App Purchase in order to unlock all the features. Essentially, the app is staying the same in terms of functionality and what you are paying for, but we're [hopefully] removing the barrier for entry for new users.
I hear your next question regarding this: what if you already paid for the app? Well, there are two different In App Purchases you can make, one costs the same as the old app, the other is free. If you had already paid for the app, when you update, you will be offered the free version of the purchase, if you hadn't, you will be offered the normal priced purchase.
Funnily enough, I know your next question: What about when you reinstall the app after making an in app purchase? The app checks both the free and the normal priced license, if either of those has been purchased, you're all set.
Native Sign Up
This is more for new users who wanted to create an Emby Connect account, you can do so within the app now, no more pushing you out to a web page to do it.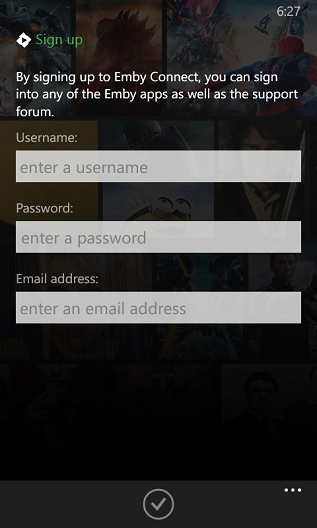 Resuming/Playing On
Previously, resuming or playing on another device could only be triggered from an episode or a movie. We've now switched this on for nearly everything within the app, from movies/videos to playlists.
Random Play on Playlists
Pretty self explanatory, but you can now start a playlist and have it play in a random order. Simples.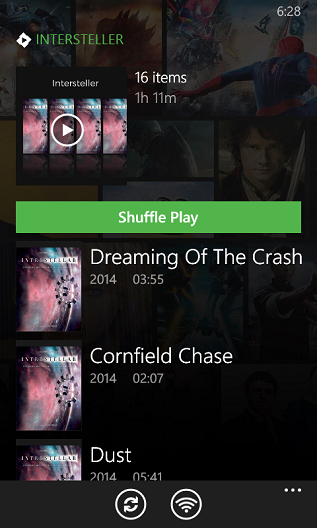 Support for HTTPS
We know some of you take your security seriously (so do we!), so we know some of you wish to use secure connections to your server, well, the app now supports these connections. You just need to check the option when connecting to the server.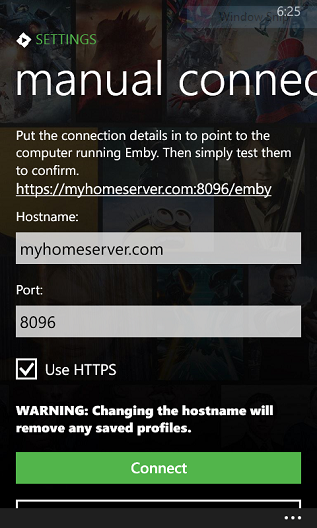 Show Items You've Already Started Watching
You're in the middle of watching something, you want to carry on watching, but you have to go through the app to find that item, we get it, it sucked. Well now it's in the main page, just swipe across.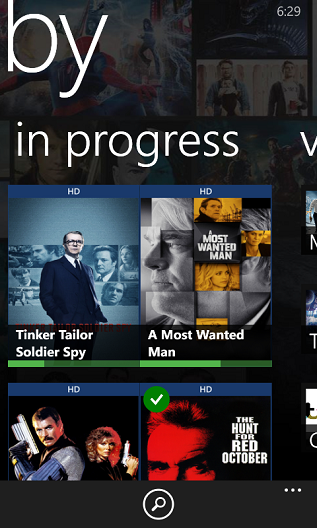 Bug Fixes
We hate bugs, we've been trying to squish as many as we can. For a full list of those, please see here.
Didn't You Say Something About Sync??
Yes, unfortunately that got held back as several large complications arose, but progress has been good and it's getting close.
The update may take a few hours to go through all the servers, so please give it chance. If you're new you can download the app from the Windows Phone Store http://www.windowsphone.com/s?appid=f4971ed9-f651-4bf6-84bb-94fd98613b86
SL
6