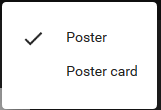 Is this an oversight?
If the user prefers to select/design their own images as opposed to using the application provided images and
media displays were based on "backdrops" as opposed to "posters", as allowed prior to the upgrade to Version 3.0.5768.7, a potentially devastating impact in terms of time and effort already spent, and the additional time and effort required to find/edit/implement new images, is being placed on the user.
Are there plans to reinstate the the "Select View" options?
Thanks