Plugins
Plugins extend the functionality of Emby by providing additional features and services. To manage your plugins, open the server dashboard and navigate to Plugins.
My Plugins
The my plugins tab displays your installed plugins. Clicking the dot menu on a plugin will allow you to configure it (if applicable), or uninstall it.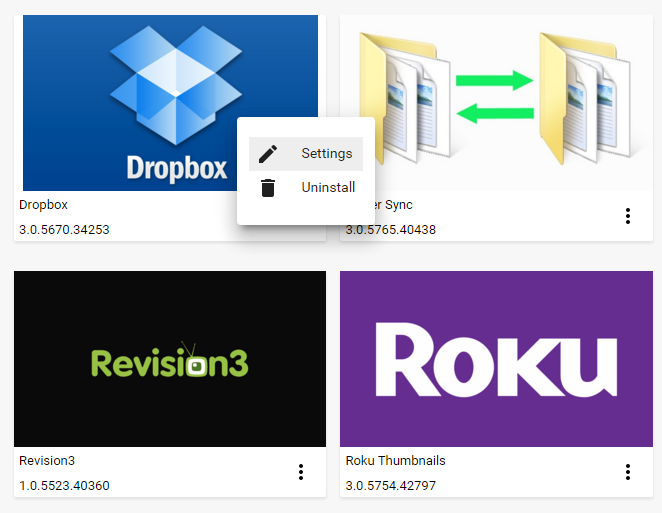 If a plugin does not require any configuration, there will not be a Settings button within it's command menu.
Catalog
The catalog allows you to browse and install new plugins. Some of the available categories are:
Channels - Internet channels provide access to streaming audio or video. For more information, see Channels.

Content Providers - Allows new kinds of media to be added to the library, such as books and games, or allows downloading of related content for existing media.

Live TV - Provides access to live tv channels. For more information, see Live TV.

Metadata - Adds new metadata scrapers or filters.

Notifications - Adds new notification targets for use with the notifications feature. For more information, see Notifications.

Social Integration - Access to social networking features.
Installing Plugins
To install a plugin, click on one within the plugin catalog. The plugin detail page will then contain an installation button.

Click the Install button install. After the installation has completed, the server will need to be restarted.
Popular Plugins
The plugin catalog has a vast library of plugins available. Below are some of the more popular choices:
Auto Box Sets - Automatically create movie collections based on your movie library
Cover Art - Enhance your media images
GameBrowser - Adds game support to Emby.
Trailers - Stream internet trailers
Trakt - Provides integration to the trakt service