Emby with Amazon Alexa

What is Alexa?
Amazon Alexa is a cloud-based voice service, so it is always getting smarter. Ask Alexa to play music, hear the news, check weather, control your smart home, and more.

The Emby Skill enables users to get information about and control playback of their media library on any Emby compatible device. Once you have succesfully linked your Emby account to Alexa, you can start playing your favorite movies, TV shows on your devices with your voice.

Get started
The skill is currently only available in English US/UK/CA/AU/IN. If your Amazon Alexa app is in a different language, you will need to change it in the Alexa app under Settings > Alexa device > Language.
Users will also need Emby Connect to link their Emby account to Alexa. To help with testing, send me your Amazon email address by private message. Once your Alexa account has access to the Emby Skill, you will need to link your Emby account. Emby with Alexa requires Emby premiere.

Emby connect: https://github.com/M...ki/Emby Connect
In the Amazon Alexa app or the website: http://alexa.amazon.com/spa/index.html

Skills > Your Skills > Emby > Link Account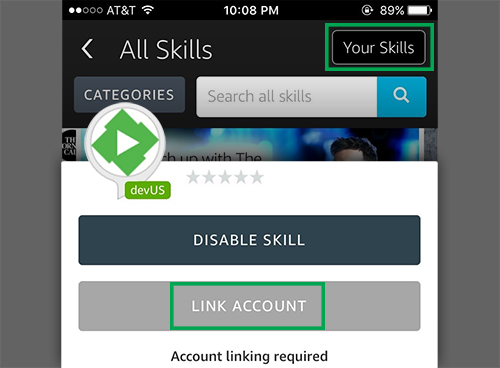 Changes
The long awaited option to playback on Alexa audio devices is now available!
The invocation name has been changed to Emby home (m. b. home). This should remove any difficulties we previously had invoking the skill.
Sending play commands to a player other than the default player. The change was necessary to drastically improve title recognition.
Previously: "Play Supernatural on Emby Theater."
Now: "Play Supernatural on another player."
Left to do: Prepare translation, Video player
The skill is supported in English US/UK/CA/AU/IN. I am working on making the strings available for translation soon. It's just a bit more complex since multiple strings can be used to say the same thing. Thank you for your patience on this.
Audio player controls
This feature requires your server to be secured with ssl encryption. I wrote a quick tutorial to help you setup for free. Otherwise you'll find more tutorials on this forums. Self-signed certificates are not supported for this.
​Ask Emby home to play music. Specify "on this player" or "on Alexa" at the end of your request to skip the player selection and playback on Alexa.

Play some music on this player.
Play the artist Adele.
Shuffle the album We are not alone.
Play the song Coming Home on Alexa.
It is very simple to control playback.

Alexa, Next
Alexa, Previous
Alexa, Pause
Alexa, Resume
Alexa, start over
Alexa, loop (This is to repeat the currently playing item. Loop off to turn off)
New
Titlte being recognized all weird? Add it to the list. The changes are picked up instantly.
https://goo.gl/forms/VgUty6pcSYOPfZH33
Help translate
If you want to translate the project, you'll find the project hosted on our OneSky translation app. If you have any questions, send me a message. These are public projects, so create an account if you don't have one and start translating here:
Please let me know if you experience any errors. Within your Alexa app, you should see your history, where it is easy to confirm what Alexa thought you said. This helps pinpoints where things went wrong.
Thank you all. Let's get this done.
Edited by Angelblue05, 17 June 2018 - 11:08 PM.