***THIS IS CURRENT AS OF 1/11/2019***
Once you've successfully port forwarded through your router, you may want to use a VPN service ( Torguard, IPVanish, NordVPN etc), to hide your server. If you use Torguard, this will show you how to set that up. Not all VPN services allow port forwarding.
If you don't already have a Torguard account and you want to try this, I suggest you maybe try a month subscription, first. Be sure it's what you want.
Before you begin, disable automatic port mapping in the advanced section of the server.



Step 1:

You need to choose the IP you want to use. You need to have a specific IP instead of using one of their hosts (numbers, not words). The IP addresses are SOCKS5 proxies. Just like forwarding through you router, you'll be using Torguard's IP with your chosen port.

Step 2:

CLICK HERE for a list of Torguard's IP addresses. Scroll down until you see SOCKS5, and choose the IP you want to use.
(You can also run the Torguard app and choose the IP that's displayed there)





Step 3:

Now you'll need to forward your server port through Torguard, using the IP you've chosen. Log in to your account, and click on services --> my services. Then you can click manage --> request port forward.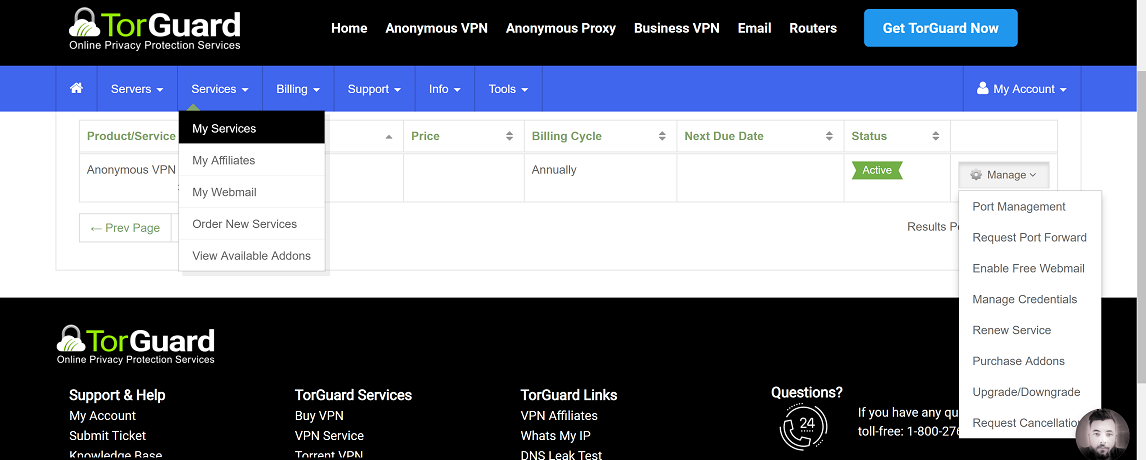 This will take you to the request page





Step 4:

On the left, you enter the same protocol and port that you used in your router. Then click the +

Step 5:

On the right you need to enter the VPN server address (SOCKS5) you chose to use. Choose your protocol and Port/Auth, and submit. Remember what you've entered, here. You'll need it for the Torguard app when you configure it.

Step 6:

Next, you'll need to configure the Torguard app. CLICK HERE for instructions on how to do that.

Step 7:

Once completed, launch the Torguard app on your server machine.

Step 8:

Open the server dashboard, and check your 'Remote (WAN) address'. Emby Connect will take a few minutes to register the new IP. You can check by refreshing the web page. Restarting the server will speed this up.

Step 9:

Once the address is showing the new IP, check that your server is still linked to Emby Connect. Re-link, if needed.


You're all set.
Edited by Doofus, 28 June 2019 - 11:16 PM.