Luke
On the Live TV->Settings page, can you amend "TV Movies" to either "TV & Movies" or similar please, so that it's clearer.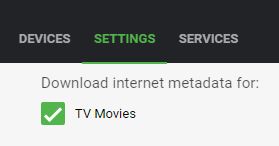 As it stands at the moment, it can be interpreted as metadata for "TV Movies" only.
I know it's been like this for ages, but I keep forgetting to post about it.
Thanks.