Emby for Apple TV - Improved playback and Live TV Guide
---
A new release of our Apple TV app is rolling out now with improved playback for native-supported formats (mp4) and a much-improved Live TV guide experience. Should be hitting your devices soon.

New Features
Native Player
We've re-introduced the native tvOS player back into Emby. The native player supports dynamic range and refresh rates that the MPV-based player currently doesn't support. The native player is enabled by default but you can enable MPV by going into the settings as shown below: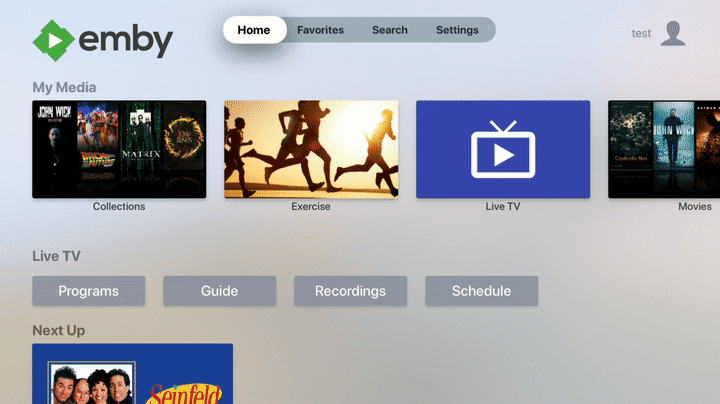 Live TV Re-write
We've re-written all the Live TV screens in the app which include a grid-based EPG, better image handling and general alignment with the features of the web app. Here's a sneak peek at the screens: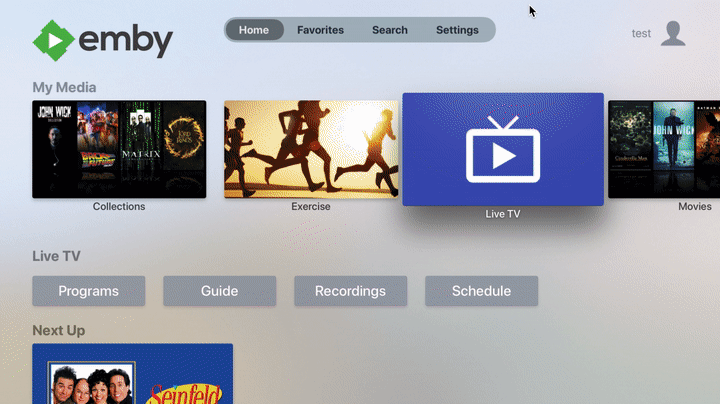 Folder Screen Re-write
We've re-written our folder screens to align with similar capabilities of the Movies, TV and Live TV libraries. You'll see higher quality images, better sorting, filtering, and navigation options among other capabilities: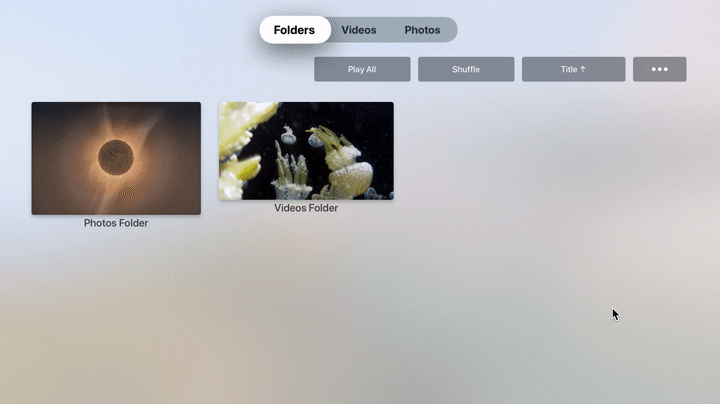 You'll also see similar improvements across other libraries like Music Videos.
Added a Photo Player
In previous versions of Emby you had to manually navigate photos and you had no way to play a slide show of photos. In this release we've added a photo player to simplify that process.
Bug Fixes / Minor Improvements:
Fixed a bug that prevented audio playback if there was no album art
Fixed a bug on the trailer detail view when there was no backdrop image
Fixed a bug that had chevrons and checkmarks displaying incorrectly in dark mode across the app
Fixed a bug where if you were on the detail of an item, went to the home screen and selected that same item in the Top Shelf it'd add another detail view to the stack and make you have to back out twice to dismiss it
Fixed a bug where Remember Me wouldn't properly toggle
Fixed a bug where the Resume button image wouldn't display after stopping and the detail screen refreshes
Fixed a bug where the Top Shelf would be empty while a recording was in progress when the recording was in the Movies library
Fixed a bug where a Movie Trailer view wouldn't load if it didn't have a background image
Fixed a bug where the proper image for the Live TV library wouldn't show
Remember Me changes now take effect the next time the app restarts to minimize the impact when changing the setting
Improved Home Screen refresh reliability
Improved login flows for better reliability
Changed the delete icon on the detail views to be a trash can
Changed the artist icon on the album detail view to match the Apple artist icon
Changed the select audio or versions icon to the Apple versions icon
Removed in-app restart capability due to a couple tvOS related bugs that result in the loss of refresh functionality

1