A new release of Emby Server is currently rolling out. Here are the highlights.
New Convert Media Feature
Want to reduce on the fly transcoding? We now have a feature that can help you convert your library into streaming-friendly formats. It's easy, just right click or tap on a video and select Convert in the menu.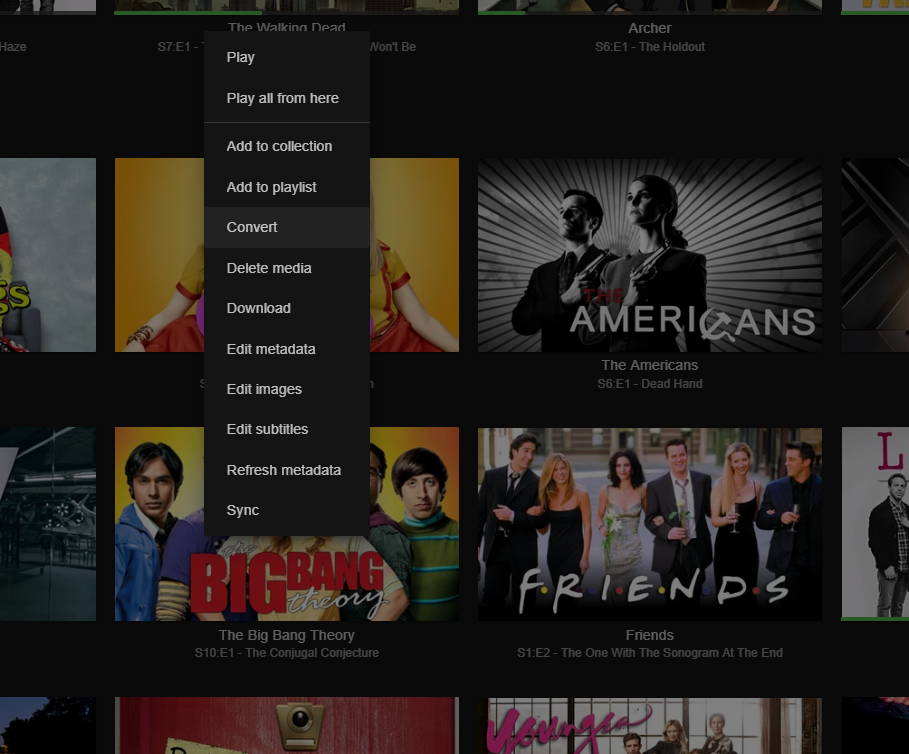 Then specify the options you want: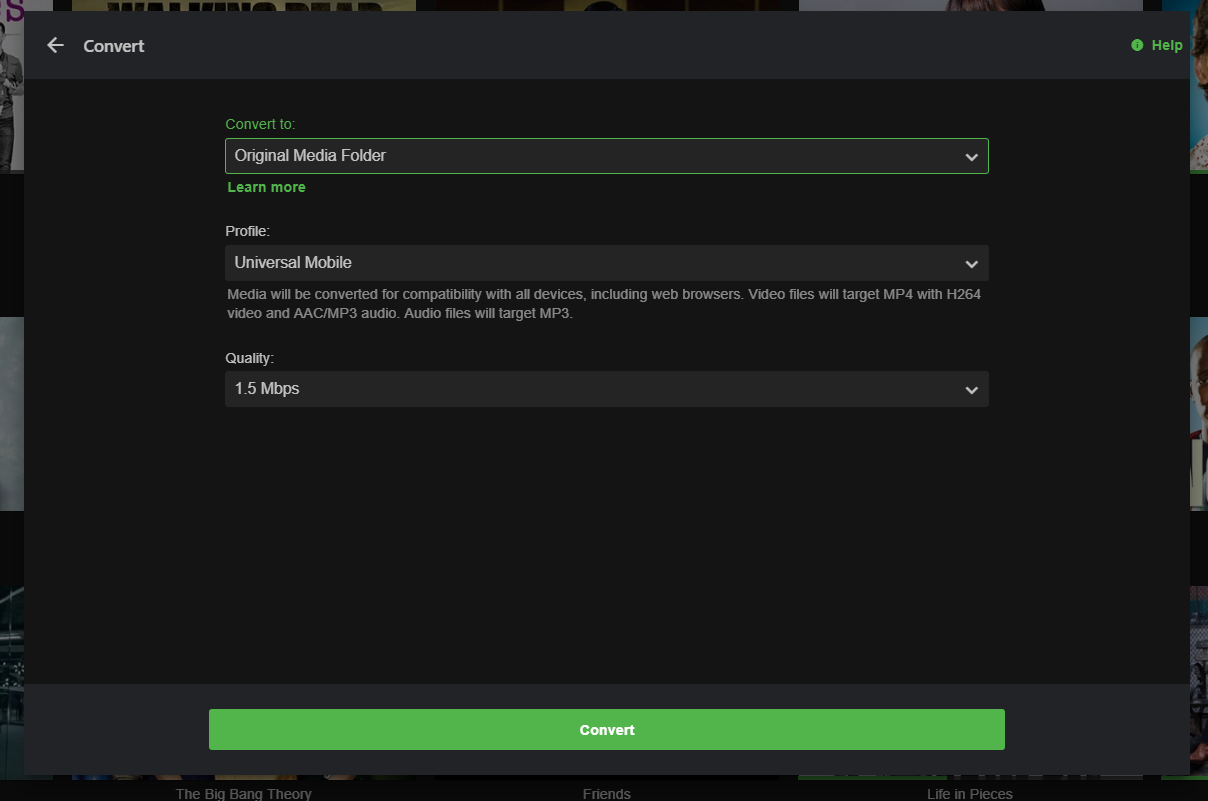 The media will then be converted and stored in the original media folder with the original item.
Want to convert new content automatically as it gets added to your library? It's simple, just convert a folder such as a TV series, and then enable the option to automatically convert new content.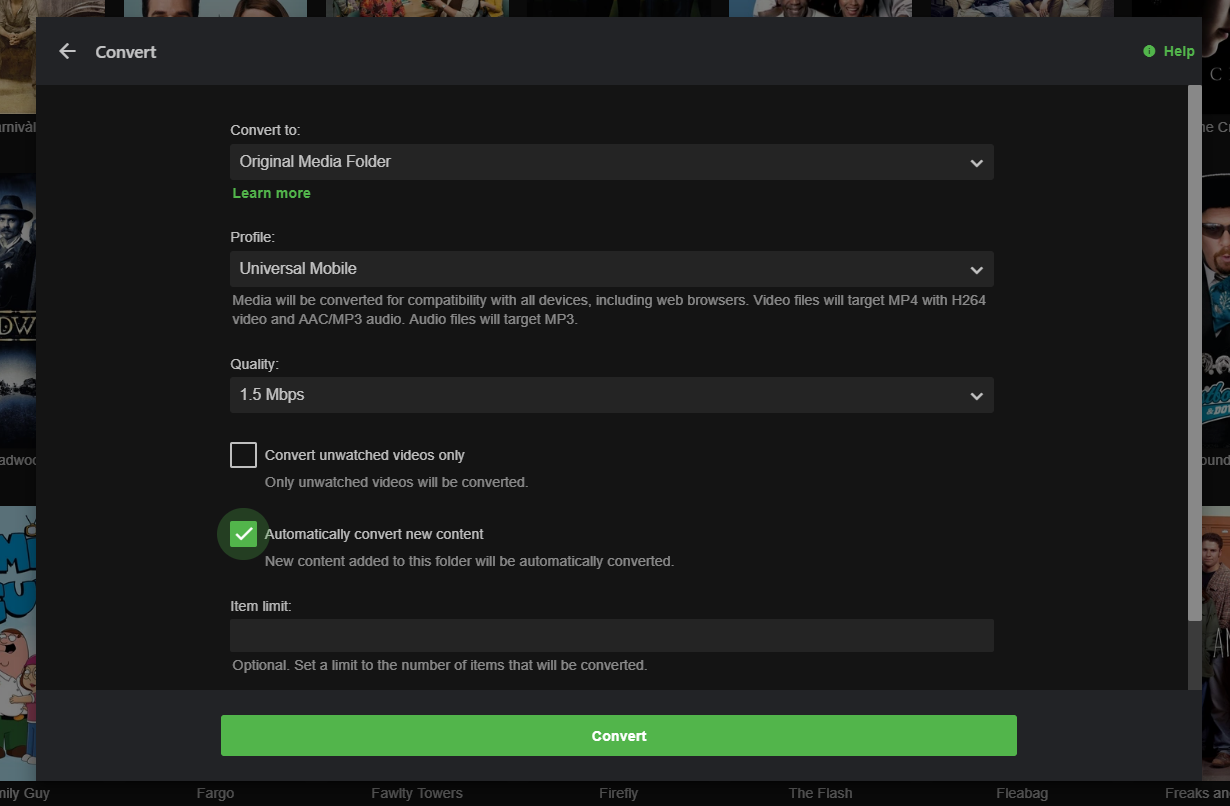 Collection Changes
The Collections folder has become a regular Emby library, which means that it now works nicely with all Emby features, including:
Customizing the library image
User permissions for the library
All other per-library settings


Important: If you update and notice Collections are missing, please do the following:
Run a library scan
Check your Emby user permissions for each user and make sure they are granted access to the Collections library


New Per-Library Settings
You can now control just about everything on a per-library basis. This includes:
Preferred metadata providers
Preferred metadata savers
Subtitle downloading
Image downloading


Important: We suggest you review your settings for each library to ensure they are correct following the upgrade.

Support for DVD & Absolute Episode Ordering Per Series
To use this, use the metadata editor to edit a series and specify the ordering that you prefer.

Important: Tvdb will need to be your highest priority Series metadata provider (which it is by default).
Import Music Playlists
Emby Server now supports wpl, zpl, m3u and pls playlist files, even with relative paths !
Wake For Recordings
On Windows, Emby Server can now automatically wake the machine for a scheduled recording. You no longer need to worry about your server going to sleep and missing a recording !
We hope to support this on more platforms in the future.
NVENC Transcoding Improvements
We've improved the performance of our NVENC hardware transcoding support. Additionally, our Linux x64 releases now include NVENC libraries, which means all you need to do is enable the feature in Emby Server transcoding settings.
Important: We include NVENC libraries but not the hardware drivers. Please refer to your Linux distro for instructions on how to install NVENC hardware drivers.
Improved Strm File Playback
In most cases, you'll notice you can now resume video playback from .strm files, and subtitle and audio track switching should be fully supported now.
Individual User Remote Access Control
You can now grant or deny remote access on a per-user basis.


New Remote IP Filter
In advanced server settings, you can now configure remote ip filters to better control who can access your server.
Improved Offline Media Support
We've resolved various issues with the library scan removing offline media. If you're someone who frequently takes your storage offline, you'll appreciate these improvements.
IMVDb Metadata Support
We've added IMVDb support for music videos.
Changes to Existing Features
Cinema Mode, IMVDb, and Open Subtitles are now pre-installed plugins.

As a plugin we're now able to update them in-between server releases, and you can also uninstall them completely if you don't intend to use them.
SubDb Subtitle Downloader Moved to Plugin
This has been moved to a plugin and is available in the Emby plugin catalog. Please make sure to install this if you wish to download subtitles from SubDb.
Bug Fixes
Fix https client certificate requirement
Fix various quirks when renaming libraries
Fix local port configuration in the web interface
Fix mouse cursor not hiding during video playback
Fix android m3u playback in certain situations
Fix SubDb download issue with very small video files
Fix occasional error with https redirect
Add samsung dlna fix


Other Improvements
Adopt linux log file rotation patterns
Support nested collections
Update multi-version display names
Expand user home screen settings
Improve library scan performance
Add default live tv screen setting
Add play/shuffle on photo albums
Display HDR info on detail screens
Add play all & shuffle to list screens
Include series year in recording folder name
Support relative paths in playlists
Support version selection when playing to dlna
Enable Chromecast for Opera
Improve series recordings for sports
Improve series recording images
Update Identify feature to respect per library metadata settings
Add music videos to Identify feature
Improve parsing of CIDR notation
Add amf to hardware transcoding menu
Fix multiple ffmpeg instances spawning in safari when changing audio tracks
Reduce frequency of image encoding
Exclude default.ext from photo libraries
use wmc naming conventions for recordings with dates in file names
Improve performance of grouping movies into collections
Add new secure connections mode setting to hosting page
Handle videos with invalid framerate metadata
Support windows media center episode file naming
Add photo albums to search results
Update to sqlite 3.23.1
Improve add user workflow

11